Lights out, candles lit, Mr P and I standing around the cupcakes....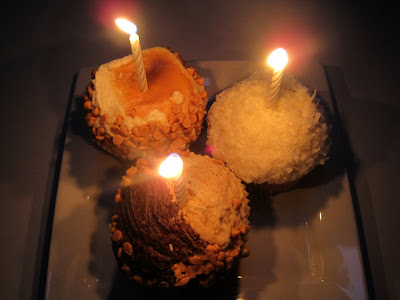 "Happy anniversary to us (Mr P: oh my god), happy anniversary to us (Mr P: this is so corny), happy anniversary to uuuus (me: THREE YEARS WOO!) happy anniversary to us."
...yes... we sang that... to the tune of "Happy Birthday"... with 3 cupcakes, 3 candles lit.
Neither of us had birthday cakes this year, so I thought it was only fitting to have some for our anniversary! Mr P and I are celebrating THREE years today! As a surprise, I drove 2 hours home (just to drive back to the jobsite tomorrow morning at 4:45am). Our new favorite cupcake shop,
Sweet
, is closed on Mondays, so I had to 'settle' for
Crumbs
, another scrumptious cupcake shop in Hoboken. Sure, there was no fluffer nutter cupcake, but they were still delicious.
As I took my first bite, I remembered back when I first saw my friend Nicole put her piece of cake in a bowl and pour milk over cake. Yes, that's right... MILK... on CAKE. Gross right? Not so. I dare you to try it... it looks gross, sounds gross, but tastes oh so good. And so I put one cake in a bowl, and introduced Mr P to this unforeseen delicacy. ....just one little bit to take of Nicole's radiating quirky awesomeness!
So, as you all well know, it's almost always Mr P who does the cooking, and me who just writes about it and annoys him with all the picture-taking. But, I thought it would be fitting to remember the very first time that I made dinner for him. I was soo nervous, because I wanted it to be perfect. I had one shot, because I was running out of time, and used all of my ingredients. Instead of just making one thing, I decided to make chicken breasts wrapped around asparagus and tomatoes with parmesan (fanciest thing I had ever even attempted to make) and zucchini parmesan bread. Unfortunately he came home before I was finished, and he ended up helping me put together the chicken, but at least I got to do the bread all by myself!!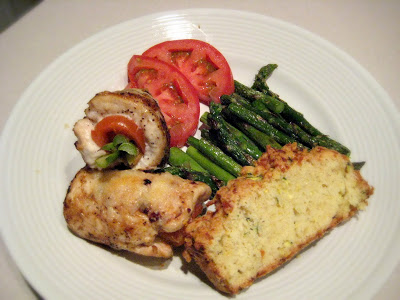 This was was only the beginning of our cooking, a passion of his that we have grown to love together...
Cheers to many more years to come :D
Toodles.
J&H