how are you guys this morning!? for us, today's a bit of a pain. it's like someone took away a day of our weekend. you know, the weekend we were supposed to move? we can thank mother nature for that one. although the boys got in a good 2 carloads on sunday, the rest of the day was a monsoon. or, at least, rainy enough that we didn't want to move the rest of our upholstered or wooden furniture.
while we could have sucked it up and moved the little things and just gotten really wet, instead we spent the day battling crowds at ikea. apparently it's the place to be on sundays at 3:00pm
(i'm an idiot, i absolutely knew this, but after finding a parking spot at that place there's no turning back)
we perused the living spaces picking up ideas, practically forgetting what we went in there for in the first place. we decided that maybe a mid-century credenza just isn't in the cards for a tv stand, and possibly a more clever, low-lying, space-saving set up would work better
(considering the fingertips on my 5'5" body can reach the ceilings on the window side of the living room)
. i'm not exactly into the things that scream "I BOUGHT THIS AT IKEA," but damn they have some good ideas for small spaces.
we went there for a bed. we decided on the
mandal bed
. we knew this before stepping foot into the place, but i just wanted to see it in person before i swiped the credit card. inspiration for this bed came from this post on apartment therapy. the main structural parts are solid wood, it has 4 drawers for storage, and it's soft on the eyes
(and our wallets).
we had been looking at
gothic cabinet
and
design within reach
for different styles and different budgets, but eventually decided that we knew we needed some extra storage, but didn't know how much, and didn't know if we would like the drawers beneath the bed, etc, etc, etc. so the mandal bed it was. perhaps in the future we will purchase a nicer bed frame, but this one does exactly what we want right now for a quarter of the price of the others we looked at.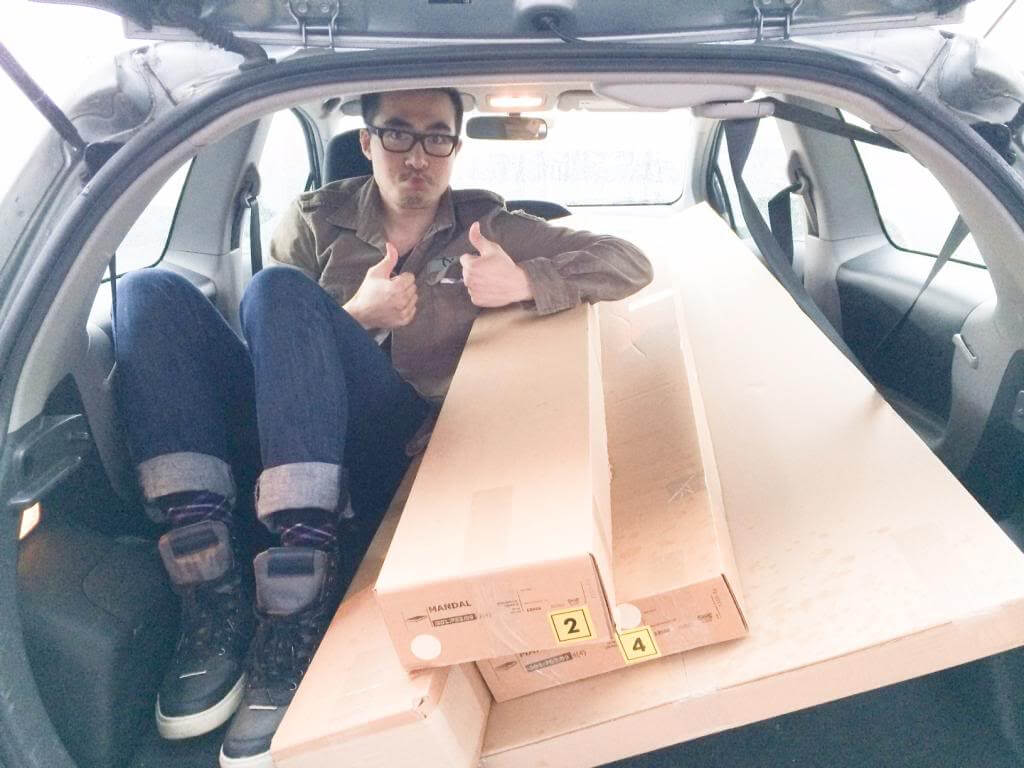 a whole queen-sized bed fits in my little yaris. no big deal...
we made this purchase after putting in the order for our new sofa. THAT's the "ultimate new house indulgence" referenced in the post title. it felt good going for a budget-friendly bed after the not-so-budget-friendly sofa purchase. hung and i will each have an indulgence or two in our plans for the new place, and this one is certainly my choice! by now i'm not sure how i found out about
the comfortable couch company
( cococo home )
, but i've had my eyes on this company since before we put the offer in on the house over 9 months ago. my initial inspiration was designer
emily henderson
's blue sofa
(see the post with the sofa here ).
i thought chesterfield sofas would be too gaudy for hung's taste, honestly. but after a few instances where he fell in love with similar sofas in boutiques and stores, i knew he would like them too.
i perused the website and instantly locked my eyes on the blue velvet shown in the
weddington style
page on the cococo home website. i told hung "i want the chesterfield sofa in this blue velvet color", but he instantly fell in love with THAT sofa... so
(being the good girlfriend)
i agreed to the weddington as long as we got blue velvet. after getting the keys to the new place and seeing the low ceilings, i realized i needed to change plans and go back to the chesterfield. the back and arms are lower, and we could always go back to them and ask for the shorter legs and make the sofa even lower. anything we can do to open up our space is key.
after talking about buying the sofa for so long, we finally did it.
cococo home
is a made-in-the-USA company that builds the sofas in north carolina. while they ship all over the US, their only two showrooms are at the factory in north carolina, and
(you guessed it)
new jersey, just an hour away from us. we couldn't be more pleased with the hamilton township store. we sat on nearly every sofa, laid on them, kicked up our feet, debated over styles, fabrics, seat depths, upholstery pin spacing, you name it.
we left the store feeling good about our purchase, the service, the homemade gingerbread cookies
(we devoured nearly the entire batch)...
and we can't wait to get the sofa delivered in a few weeks!! for a sneak peak, check out the chesterfield sofa i found on their facebook page: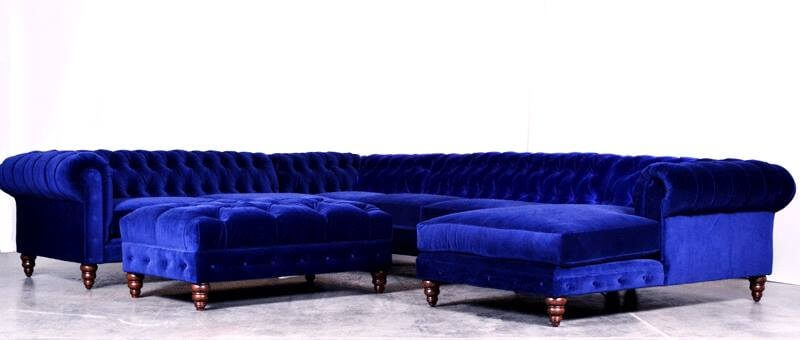 ours will be a mini version of this. no ottomans, no sectional shape... just a straight, normal-sized couch. did i mention i can't WAIT for it to arrive!?!?
with just an hour or so before our seemingly-weekly sunday supper club at our friend's house, hung started putting the bed together as i started putting things away. the intention was to be done moving by the end of the day, but between the crowds of kiddos at ikea and the rain, we definitely did not get done. we actually ended up moving all of the pillows in the morning too, and forgot that fact until we went to bed. FYI, plush robes make good pillows. at least we made the major purchases, and had a good meal to boot.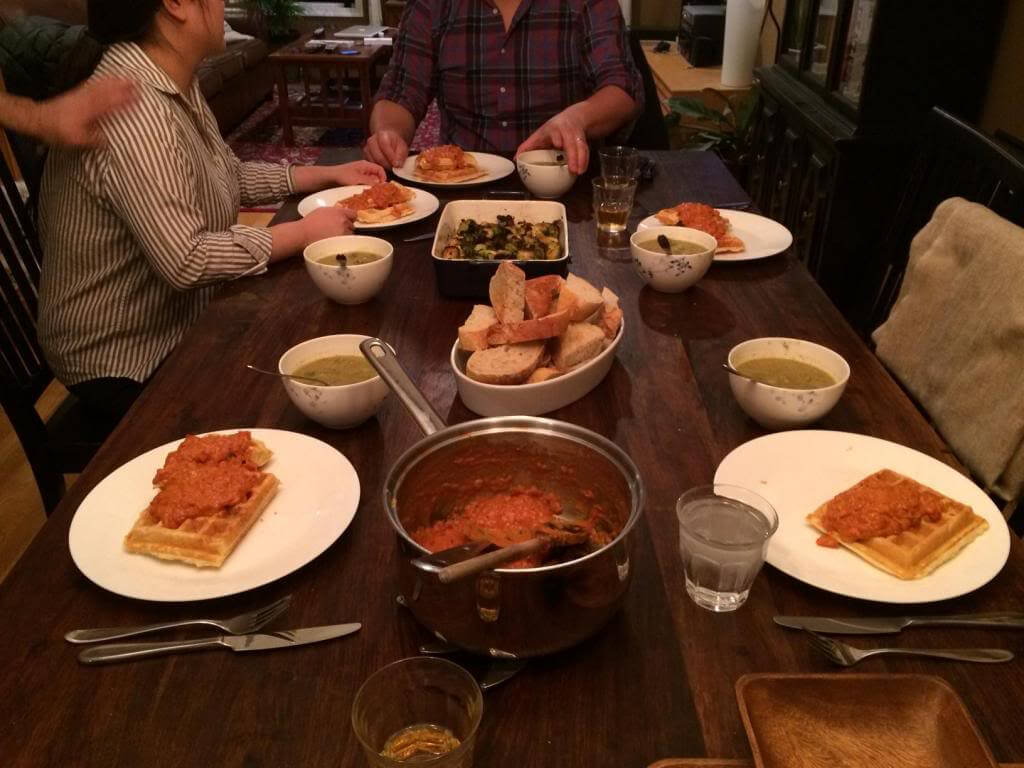 cheddar waffles with orange tomato sauce
broccoli parmesan soup
brussels sprouts with bacon
not exactly the healthiest, and they didn't exactly go together, but gosh it was good... feeling like i need to add orange to our marinara sauce now!!
cheers.
jenn
p.s. stay tuned via instagram or twitter @beyondthestoop