say whaaaaat??
yes, the title totally means what you THINK it means. i made potato chips in the microwave.
and it...
i first heard about it
here
on
thekitchn.com
, read the comments, and was convinced it just wasn't going to work for me.
i'm here to say i was pleasantly surprised!
they were crunchier than
Lay's
, almost like kettle-cooked chips, but used
NO OIL!!!
we sprinkled salt on for the heck of it, but really they don't need anything on them.
they are pretty tasty just by themselves.
PREP:
the recipe
says to slice them as thinly as you can, so we used the thinnest setting on our mandolin (slicer).
then, soak them in water for a few minutes, then rinse until the water runs clear.
then, pat dry with a towel and place on a plate with a few paper towels beneath them (don't let them touch!)
sprinkle on some salt
(or, if you MUST use oil, spray with your misto)
MICROWAVE:
microwave on HIGH for 3 minutes.
flip the chips.
microwave on 50% for 3 minutes.
microwave on
HIGH
in 1 minute increments until chips are completely dry and crispy, and starting to brown.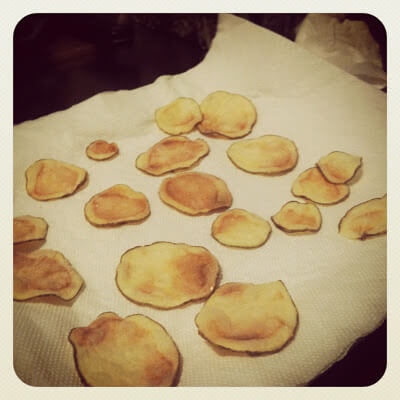 THAT'S IT!
(it's a LOT of microwaving... but... don't try to short cut it. i did the second batch with 2 rounds of 3.5 minutes on high, and ended up with chips that were burned AND floppy on the same chip! bad news bears.)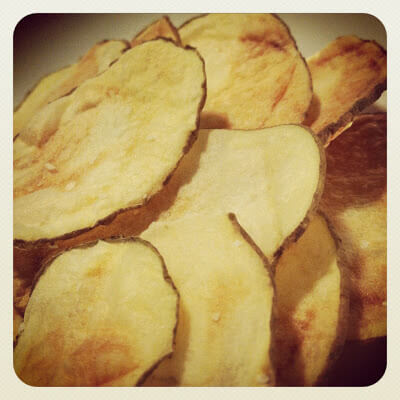 NOW

... it's YOUR turn to try (then tell me how it turned out!) (because it takes NO cooking skills, besides slicing a potato if you don't have a mandolin)

the good thing

(or bad thing, depending on how you look at it)

is that you can't make many at a time... only what will fit without touching on a plate...




on another note, not only did we save money by making our

OWN

potato chips tonight, we saved about $100 by cutting each other's hair :D

( brave souls, we are)


toodles.