....aaaaaaaaaand bacon. because bacon makes everything better right? right. well... except for your health. but we'll pull a Paula Deen and say "we only cook meals like this on occasion" (excpet WE actually mean it, and don't have diabetes to spoil the lie).
ok ok you've definitely heard enough ragging on Paula Deen in the news lately, so that's it i promise!
mr p and i were introduced to the wonderful world of peppered bacon straight from the butcher last fall on a visit to ohio. my mom sent us home with a few packages of the delicious stuff when we came home for christmas, and we had been holding out on the last package for a special meal after my detox
was over.
two nights ago was that night! we made a meal i found from a friend on pinterest that was supposed to be a "meatless monday meal", except we added bacon , haha. when people do a "meatles meal" once a week, it's usually in effort to cut a carbon footprint since the meat industry is one of the worst offenders. adding bacon from a local butcher definitely had a lower carbon footprint than my canned articokes from who knows where, processed who knows where, trucked to trader joe's, stocked on the shelf where i picked it up and transported it home in my gas-powered car. (phew) needless to say, i think it was ok that we added bacon.
per the usual, we loosely followed
this recipe from eat. drink. smile.
we had everything at home already except the goat cheese and spinach, where i picked up both from BJ's, who had ORGANIC goat cheese and ORGANIC spinach for about half the price of NOT ORGANIC stuff at the grocery store next door (we LOVE having a bulk food megastore 3 blocks from home.)
so,
here's the recipe
per
eat. drink. smile.
(and i'll give my quirks and tips in

red

)
Spinach, Artichoke, and Goat Cheese

(and bacon!)

Strata
Ingredients:
1 teaspoon

(ish)

olive oil
1 cup

(ish)

chopped onion (add as much as you like!)
1 (12 oz) package frozen artichoke hearts*, thawed
(i used 1 14oz. can in WATER, not oil, drained and patted dry
)
2 cups roughly chopped fresh spinach

(just throw in a few handfuls)


2 garlic cloves

(ish)

, minced

(garlic cloves are all different sizes, so if you like garlic, put in as much as you like!)


1 tsp dried herbes de Provence

(would have been better than the zatar and thyme we used because we didn't have herbes de Provence)


1 3/4 cups milk

(1 of 2 things you ACTUALLY have to measure because it's baking)


1 tsp

(ish)

freshly ground black pepper

(are you REALLY going to try to grind up a bunch of pepper, then try to measure it with a teaspoon? no, just crack some in and estimate!)


1/2 tsp salt
1 tsp crushed red pepper
(or more if you like spice! ...we used a LOT
)
4 large eggs
(2 of 2 things you actually have to "measure")
1/3 cup grated Parmigiano-Reggiano cheese

(so hard to measure because it's so fluffy when you grate it! so estimate)


1/2 (1-pound) loaf country-style white bread, cut into 1-inch cubes (about 5 cups)

(any bread will do, we used the rest of the wheat bread we had and the last hoagie bun in the bag!)


Cooking spray (or, use your misto if you have even an ounce of care for the environment)
5 oz crumbled goat cheese, divided

(or more... goat cheese is sooo good!)
6 or so strips of bacon
Directions:
Preheat oven to 350° (for the bacon!)
Heat a large nonstick skillet over medium heat. Add olive oil to pan; swirl to coat. Add onion, and cook for 2 minutes, stirring frequently. Stir in artichoke hearts, garlic, and spinach; cook for 8 minutes or until artichoke hearts begin to brown, stirring occasionally

(our canned artichokes had LOTS of liquid in them, so after cooking for a while, I drained most of the liquid and turned up the heat to get them brown, THEN added the spinach and folded it in because it wilts SO fast)

Remove from heat, and stir in herbes de Provence. Cool 10 minutes.
Combine milk, black pepper, salt, crushed red pepper, and eggs in a large bowl, stirring with a whisk. Add Parmigiano-Reggiano cheese and bread; toss gently to combine. Stir in artichoke mixture, and let stand for 20 minutes.
(While the mixture is setting, place bacon on foil-lined baking sheet and bake for 10 minutes, chop into 1/2" pieces when cooled and add to bread mixture).
Preheat oven Change oven temperature to 375°. Spoon half of bread mixture into an 8-inch square glass or ceramic baking dish coated with cooking spray. Sprinkle with half of goat cheese, and top with remaining bread mixture. Sprinkle remaining half of goat cheese over top. Bake at 375° for 50 minutes or until browned and bubbly

(we used our new pyrex lunch-sized containers and did just 1 layer of mixture and cheese, then set the timer for 20 minutes, and checked in 5-minute increments after that, totalling 40 minutes. BEST idea ever! lunch and dinner for 2 days were already ready!!)
*I purchase my frozen artichoke hearts at Trader Joe's.

(we purchased our CANNED artichokes at trader joe's too!)
now that you are thoroughly confused, if you want to see the original recipe, it's right
here
.
hopefully your strata turns out something like this: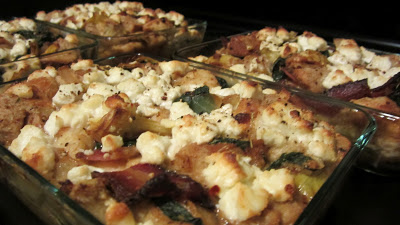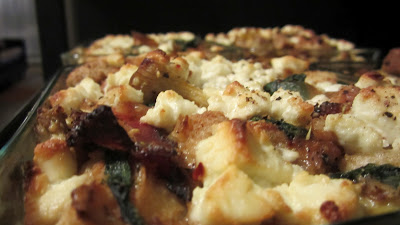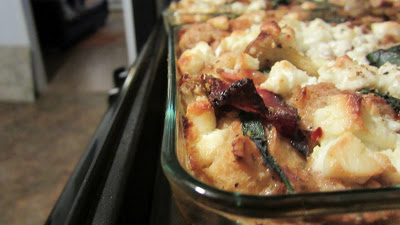 ...and if not... then get your booty over to us and we will make it FOR you :D
(i wasn't going to post this recipe until mr p told me he had all his co-workers try it ...and they liked it!!)
toodles.
j&h