Normally I don't like to just "re-post" articles, but read this one tonight and I thought it was worthy of sharing:
From Ocean to Box: How Sea Salt Is Harvested
via
thekitchn.com
If you eat sea salt, you might be interested in reading how it gets to the package! I'm not one to harp on what kind of salt you eat or don't eat, but I do know that sea salt is
just good
.... as well as kosher, and other types besides plain old table salt, which also holds an important place in the culinary world.
What type of salt do
you
normally use? Have you ever even thought of using something other than table salt? Salt is salt is salt, right? Well, kind of. Read
this
for a good explanation of the differences.
Kosher takes the crown in our kitchen, hands down... out of our "salt cellar" or "salt pig" too. It just makes us feel like important chefs when we can just take a pinch and sprinkle it onto the food :D
What the heck is that?
Well, unless you have table salt, most salts won't fit through the tiny holes of a salt shaker (no matter how cute it might be... this adorable pair has never been used, even though they have been full of table salt and black pepper since the day they came home from
Anthropologie
over 3 years ago).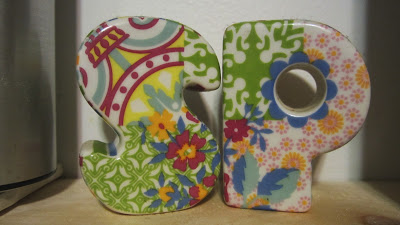 You can google "salt pig" and you will find a few expensive containers that are really just glorified trinket dishes. I happened to come across this little guy at
Urban Outfitters
with other jewelry containers, and
knew
I
needed
it, and Mr P said it would be perfect for salt since it has a wide mouth so fingers can get inside to get a good pinch.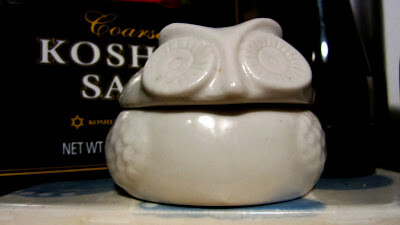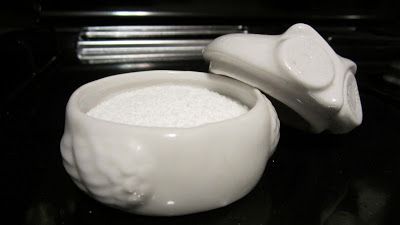 ....aaaand he sits next to the pepper grinder (looking for a more awesome one... anyone have ideas?), sugar pot (one-of-a-find from Brandon Knott Pottery), olive oil squeeze bottle (sooo cheap from
Wasserstrom
... yep, you read that right... $0.64.... restaurant supply stores are the
best
), and refillable vegetable oil sprayer (ha! did you
even know these exist
?? me neither, until Mr P introduced me to this one that used to be his brother's... greenest idea ever... no more Pam and its super un-green aerosol throw-away container).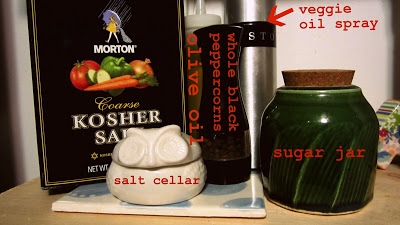 So if you haven't tried sea salt, kosher salt, or other types of salt besides plain old table salt, you should! Especially now that you know where it comes from!
Toodles.
J&H