it's no surprise mr p and i
LOVE
our mason jars. we use them for everything from grains storage to flower pots to (now) smoothie containers! this weekend mr p made me this clever to-go cup out of a mason jar so i could take it along with me to pick up our first half-box of CSA fruits and veggies. it was so nice!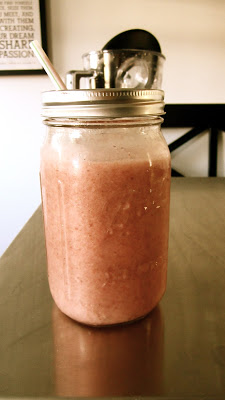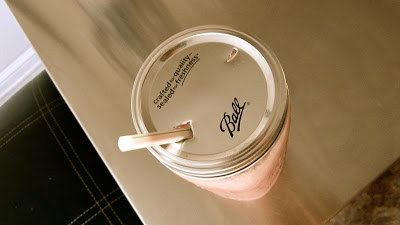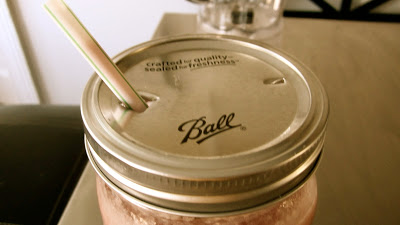 mr p and i have also made a conscious decision to reduce our use of plastic in the kitchen. we had oodles of plastic containers cluttering our cupboards that leaked when we took them for lunch, and released
who knows what kinds
of chemicals when microwaved.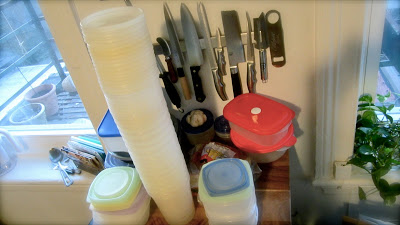 we already had a love for mason jars, and now we have added pyrex containers to the mix! we found (2) 3-cup containers and (1) 6-cup container at Target on sale for just $11, so we decided to try them out. this was about a month ago, and we LOVE them so far! they are good for just about anything i take for work, nothing leaks, and (most of) the food isn't touching plastic. we bought 1 more 6-cup container, making just 4 pyrex containers that replaced a trash bag full of plastic containers i took to salvation army
(yay! less clutter!!)
(ok, ok, we kept a FEW more containers than this, but you get the idea)
lastly, anyone remember the
post about trying to keep herbs in mason jars on a wall in the kitchen
? well, even after
round 2
with the herbs, they just didn't last.
when i gave my philodendron a haircut
, i saved the trimmings in anticipation that the herbs wouldn't last through
round 2
(and they didn't). last weekend i finally replanted the trimmings into the jars after having dead herbs in the jars for months (literally).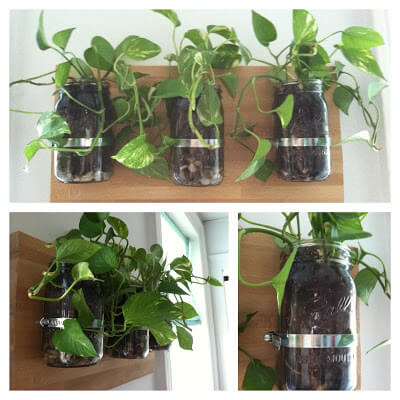 they are a bit wild and crazy from the way they were growing in the old jar, but i like it!
cheers!
j&h