Yay! It's finally over! ...which means I went
to get all you can eat wings tonight
on a date to a fish place and ate "healthy" (as healthy as eating out goes).
That's right, this whole 28-day "detox" thing was pretty brutal in the beginning. I would
HOPE
that it would be hard for anyone, because just eating just fruits, veggies, and nuts is, well,
NUTS!
The
Whole Living 28-Day Challenge
incorporates whole grains and meat towards the end, and by then I really started to like the way that I felt. Abstaining from eating dairy and gluten made me more energetic, but I think the
BIGGEST
change in how I feel comes from not having caffeine to boost my mornings. I don't get that sleepy sluggish feeling before lunchtime, and I certainly get better sleep (even though I hardly
EVER
drank coffee after lunch). I don't notice much anymore the fact that Mr P twitches as he falls asleep as I lay wide awake (ha! which means I'm falling asleep before him sometimes!) ...doesn't mean I will completely cut out coffee, I will still revert back to my weekend treat of
44 North Coffee
, but I will just not drink office coffee during the week
(that stuff is nasty anyways!!)
I've sustained a moderate exercise routine throughout the 4 weeks, making it to the gym on average 4 days per week. I think that's a good goal to stick to because there are bound to be things that come up during the week or the weekend that prohibit me from going (and sometimes you just need a break!)
In addition to feeling much better, I've lost 7 pounds! Portion control has always been my problem, so sticking to foods that are lower in calories (fruits and veggies) and eating leaner proteins, my gym time is finally starting to pay off! I think I could have done better if I would have stuck to the challenge 100%, but after
having visitors
,
going to a wedding
, and
hosting a dinner party
, it was just too much and I would have isolated myself from my social surroundings. So, 7 pounds on a Mon-Fri schedule for 4 weeks
ain't too shabby
:D
Now, let's see if I can just stick to these new eating habits to get bikini ready by summer time since Mr P and I decided we
NEED
to take advantage of going to the beach this summer since we live SO close!
What are your best healthy eating habits? Do you follow them religiously? Or are you one of those people who
KNOWS
how to eat well, but fail to do so on a regular basis?
Tonight we celebrated the end of the detox and the beginning of new eating habits by having dinner at
le pescadeux
in SoHo... fish and greens it is! It's a good thing they have (my fave) brussells sprouts for a side dish!!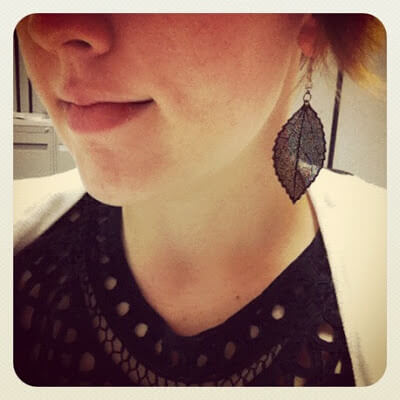 I'm pretty much date-ready all day except for putting on some
date night shoes
;)
Wish me luck in continuing the new healthy eating habits, and I wish YOU the best in sustaining (or starting) yours :D
Toodles.
j&h