So many Asian meals being made recently in our house! Usually it is
me
, the whitey, who cooks Asian food, but recently it's been my Asian other half. Tonight he put his own twist on a Vietnamese soup. Usually this soup is made using ground pork, but he could only find ground turkey at the grocery, so he used that instead! It's healthier anyways. The best way I can describe this soup is that it almost tastes like an Italian wedding soup, but with less spices and no noodle balls. Really the only reason this soup is even considered "Asian" in my mind is that it uses soy sauce and fish sauce. Enjoy!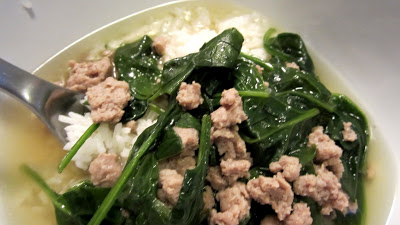 Spinach and Turkey Soup (Canh)
Ingredients:
1 lb ground turkey
1/2 lb spinach
8-10 cups water
2 tbsp fish sauce
2 tbsp soy sauce
2 tsp olive oil
1 tsp freshly ground pepper
1 tsp sugar
Additional salt, pepper, and sugar to taste
Instructions:
Break up turkey and roughly mix in fish sauce, soy sauce, pepper, and sugar, don't over-mix. Heat up oil in 5-quart pot or Dutch oven on stove. Add turkey mixture until almost done. Add 8-10 cups water to pot. Bring to a simmer and add salt, pepper, and sugar to taste. Add spinach and turn off heat so that the spinach holds a little bit of shape (let simmer if you like your spinach completely cooked).
Serve over rice or just by itself! (I prefer having rice though)
Tips:
This soup can be tweaked to your tastes. Add more spinach if you would like, or add onions and/or garlic for a deeper flavor. Maybe you could try using ground pork or sausage instead of ground turkey. Taste the broth as you go so you know what direction you should go when adding things. Think about what it's missing when you taste it, or maybe it's just the way you like it!
I told Mr P tonight that I want him to make me this instead of chicken noodle soup when I get sick! It's healthier than opening a can of Campbell's chicken noodle soup considering it's more natural, and it's
homemade
.
Have a good night :D
Toodles.
J&H