Last weekend, we had many guests for our little apartment, and though we ended up actually cooking at the end of the weekend, it was just too crowded to put on a show with a big meal. We went to one of our favorite bar/restaurants in Hoboken, called
Gaslight
. I'm not sure about other nights of the week, but we definitely know that on Friday nights, they have what they call "reverse happy hour" where happy hour starts at 9pm! Plus they have good food with decent prices too, and Mr P made best friends with the bartender the first time we went there (shocking, haha).
Normally I don't order appetizers when I eat out, but I thought that since I was going to be drinking and I only ordered a salad, I thougtht I should get something else. Black bean hummus was staring me in the face. I couldn't resist! I never had it before, but I like hummus, and I like blake beans, so why not? Mr P has been nagging to make it anyways, but we just never had the time or thought of making it at a convenient time (that always seems to be the case, we're out and about and think of making so many things to make, but when we have the time to make something, we can never think of those things!) Sorry, chickpea, black beans take the cake on this one. It was creamy, lime-y, I tasted a little bit of cumin, and it was a little bit spicy.
We sort of forgot about it, until
this article
showed up on
thekitchn.com
yesterday. We decided that we were going to use this recipe, but tweak it for using black beans! And we didn't want to turn on the oven, so we didn't roast the jalapenos either. We just put them in fresh. Here's our version of the recipe: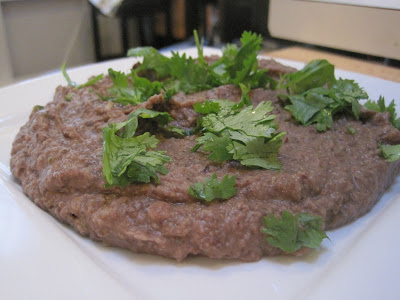 Black Bean Hummus
(adapted from
Roasted Jalapeno and Lime Hummus
, from thekitchn.com)
Ingredients:
1 jalapeño (more if you like it spiiiicy), seeded and diced
1 14oz can of black beans, drained and rinsed (or equivalent dried beans cooked as per package insructions)
juice from 1 lime
1 clove of garlic, roughly chopped
1/2 teaspoon cumin
1/2 teaspoon coriander
1 pinch of salt
2 tablespoons extra-virgin olive oil
1 tablespoons minced cilantro (optional)
Fresh pita bread or tortilla chips for serving (or green peppers to be healthy :P)
Instructions:
Put all indredients into food processor, and process until smooth. That's it!
Note:
Everyone likes their hummus just a wee bit different, so all quantities of indredients can be changed upon your discretion. I listed mostly minimum amounts. We actually had 2 large pinches of salt, but you need to add little bits at a time, because it can quickly get too salty, then there's no turning back. Also, some limes may be juicier than others, and you may not get all the juice, so pay attention to how limey it is, and add more if needed.
What we will do next time:
MORE JALAPENOS!!! Though it had a good spice, it could have used more. We just didn't want to take the time to chop another one. I LOVE cumin, so I would add more if it was just me, but I'm not sure about Mr P.
If you are like me, and you like black beans and hummus, you will thoroughly enjoy this dish. It's definitely better than regular hummus in my books. It's cheaper too, because you don't have to buy expensive tahini. I also don't think that it requires as much oil as regular hummus. Black beans are smoother than chickpeas, so you don't need much oil to preserve the creaminess.
Last night I chopped off all of my hair, and Mr P came with me to encourage me that it would be ok (after all, he's the one that convinced me to do it!) On our way home, we walked past the middle eastern grocery in Hoboken called Zena, and I remembered I had a livingsocial.com coupon for it! So we got some pita bread, stuffed grape leaves, deep fried cauliflower (soo good) and another dish called vegetarian musaka that the guy us was good (so Mr P instantly said "oh? we'll get an order of that too"). Definitely some good choices to compliment our hummus!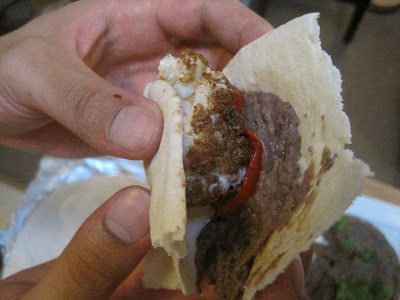 Pita with black bean hummus, deep fried cauliflower, and vegetarian musaka
Hope you enjoy :D
Toodles.
J&H