Just because I haven't posted in over a week doesn't mean I didn't get to eat good food in the last week. It does, however, mean that we have opted out of cooking for a while. I was away for work all last week, and wasn't able to cook a single thing. Having only a microwave and a mini-fridge in a hotel room makes it difficult to eat good food without eating out (though I should try to get better at being creative with the microwave so I don't have to go through a week of pre-made food and pre-cut veggies again).
I could have prepared for my week away a little better, had we not gone away for the weekend to the Boston area for my friend Sophea's wedding. We took off Friday after work, grabbing some leftover pulled pork on the way (yes, we
still
had more!) so we didn't have to spend money on just ok fast food. While staying with my friend Victoria in Salem, we found a cute bakery next to her condo building called
A&J King Artisan Bakery
, and instantly fell in love. We stood staring at the sandwich menu for a good 5 or 10 minutes, but when beginning to order, we were told sandwiches weren't available until 11am, and it was only 10am. Dissapointed, because I was craving something savory, I found the only savory item in their glass case, a peppered goat cheese and scallion scone! Perfecto! I could have eaten 10 of them I think, it was
that
good. A perfect texture, dense, and not too dry, not too moist.
The wedding was in Lynn, and the reception in Lowell. Arriving a few minutes early to the reception, Mr P was absolutely not pleased to be the first people at an Asian wedding reception. Apparently it is acceptable to arrive hours late, because though the invite said the reception began at 6pm, people were still strolling in at 9pm! I guess I will listen to him next time, haha. Sophea was such a beautiful bride, with her traditional American white wedding dress and two traditional Cambodian dresses. Maybe I will have a Cambodian dress when that special day comes for me, I LOVED her beautifully beaded gold and pearl colored dress. After a long night of fun, friends, dancing, and good food, we were dead tired, and drove back to Salem for the night.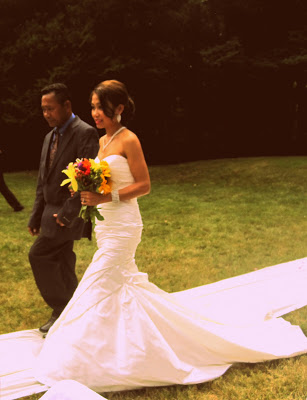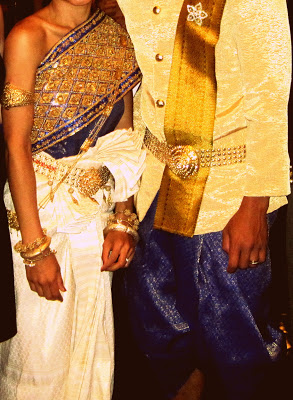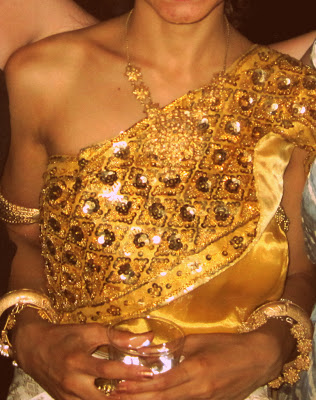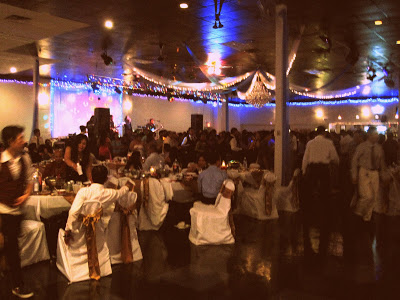 Sunday morning brought a
monsoon
to Salem, and hence ruined our plans to explore Boston. We decided to go again to A&J King Artisan Bakery, this time after 11am for the sammiches! Mr P ordered the roast beef, the smoked Salmon for me, and the marinato for Victoria (details found
here
). Each sammich was made on fresh-baked bread (of course), and made with as many local ingredients as possible (see
here
). A&J King makes most of their own sauces, and is always discovering new ways to make their pickles (pickled
anything
is starting to be a new fave for me). That day we had regular cucumber pickles, pickled with lemon and basil! They were like lemonade pickles, being more lemony than basily, but still delicious.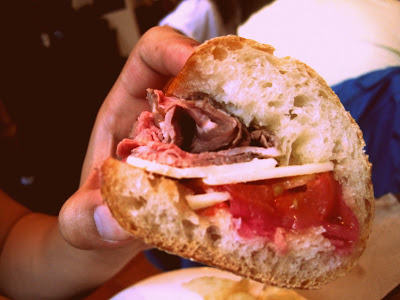 Roast Beef Sammich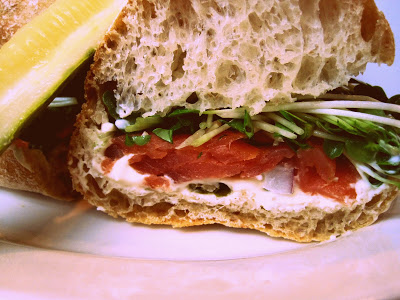 Smoked Salmon Sammich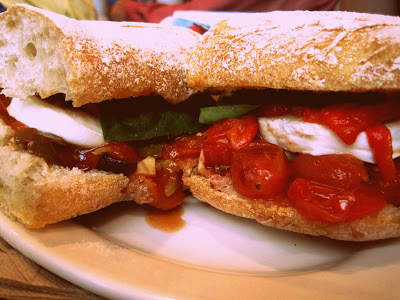 Marinato Sammich
After getting back to Hoboken Sunday evening around 8:30pm, I had to unpack and pack again for my week away for work, leaving at 4:45am for a 2+ hour drive to be at the jobsite at 7am. My week was fun, full of exciting things I had never before experienced at work, though coming "home" to an empty hotel room with unexciting, unsatisfying food was not exactly fun. After getting tired of eating the same boring food all week, I decided to call up our friend Zack in Philly to catch some real food for dinner.
Mid-Atlantic
was the restaurant of choice, located in the
University City neighborhood
in Philly, near the
UPenn
and
Drexel
campuses. We ordered an appetizer of some sort of delicious bacon (can't find on their online menu), served with pickled veggies and
barley
mustard. I had never heard of anyone making
barley
mustard, but I'm positive I could have eaten a bowl of it by itself. Mr P and I will definitely be trying to replicate it in the near future.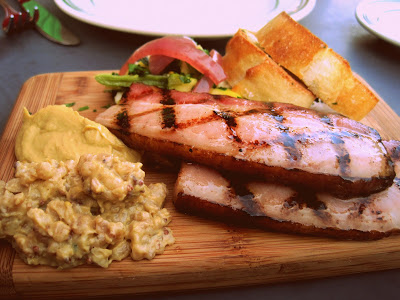 I order the veggie scrapple burger (it was just ok) and Zack ordered the smoke house hot dog. My burger fell apart so much that when I actually was able to take a bite of the sandwich, almost all of the burger had squeezed out. Though the bits that fell out were good to eat by themselves with the pepper jelly (tasted like bell peppers blanched in simple syrup, yum...), eating a sammich of just bread and fresh veggies wasn't so great.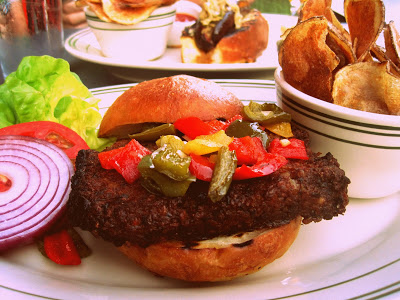 Veggie Scrapple Burger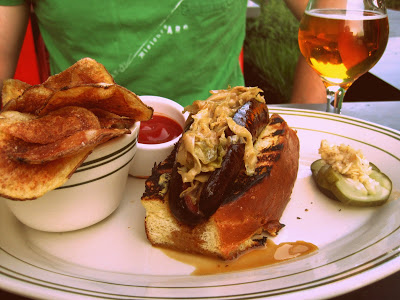 Smoke House Hot Dog
I would definitely recommend this restaurant though, as most of the beer on tap came from local breweries, and the homemade mustards and pickled veggies were a sign that choosing a dinner from appetizer menu might be the way to go next time we visit.... and definitely get dessert. I never get dessert (despite my insane sweet tooth), but our waitress said "goat cheese, pistachio, blah blah blah.." and I instantly reacted with a "yes, please" before I knew what I was doing. It came out and it was the best combination of baklava and cheesecake. The crust was literally just pistachios and honey (from a local honey farm) and the top was goat cheesy cheesecake-like fluff with honey and pistachios on top.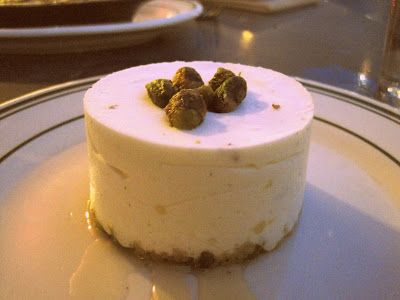 I will be traveling to the same jobsite again this week, but hopefully Mr P and I can prepare better food on our lazy Sunday afternoon, so I can feel a little more at home with Mr P's cooking :D
Have a good weekend!
Toodles.
J&H