What I am about to introduce to you is my
favorite
meal from Mr P... absolute
favorite
. It's easy, cheap, quick, and satisfies so many tastebuds! This meal is simply stir-fried beef and watercress. Watercress has started to be one of my favorite veggies. It's cheap, has a slightly dark taste, and it keeps a good texture, even when wilted in a stir-fry. The leaves shrivel up sort of like spinach, but the stems stay slightly crunchy, almost like the prefect mix between spinach and kale.
Mr P and I like to keep a full freezer, but like I've mentioned in the past, sometimes we go overboard, and we need to eat freezer food for a
long time
. But, sometimes having prepared meals or semi-prepared meals in the freezer is just nice. This is the case with the meal we had last night. We had been gone all weekend in Ohio, were running on little sleep, hadn't done laundry for 2 weeks and we have guests coming this weekend. A big grocery trip was just did
not
fit in the mix. The last time we went to our favorite Asian grocery store,
555 Asian Supermarket
in Jersey City, we found flank steak for
super
cheap (half the price as the big box groceries), so we bought
a lot
of it. Mr P sliced it very thin with his favorite
Shun Nakiri knife
(sharpest knife I've
ever
seen), and we froze it all in 2-serving portions, spread out as thin as possible in the freezer bag for quick defrosting.
Last night, all we had to do for my favorite meal was defrost the pre-portioned flank steak, pick up some watercress for $.99/bunch at the bodega on Mr P's way home from work,
cook some rice
, and stir-fry everything in the wok. I think Mr P stopped by the regular grocery to pick up some canned water chesnuts and bamboo shoots, though we usually have some in the cupboard.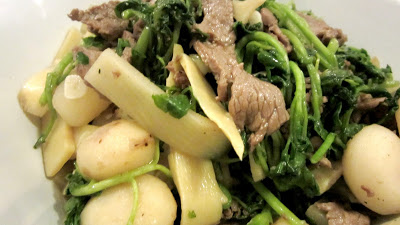 Stir-Fried Beef with Watercress
(as per email from Mr P this morning)
Ingredients:
8oz sliced flank steak
2 bunches (6 cups) watercress
8oz can water chestnut**
8oz can bamboo shoots**
1tbls fish sauce
1 Thai chili halved**
3 cloves garlic
1tbls oil
Salt pepper to taste
(ingredients with ** make it delicious, but are optional if you don't have or don't like)
Notes:
1. Everything cooks really quickly in the wok, so prep all ingredients and have them ready beside the stove before starting to cook anything
2. If you can't find watercress, try your hands at using different dark greens such as kale, spinach, or collard greens.
Instructions:
Thinly slice beef, rough chop garlic. Rinse watercress. Heat oil in wok, high heat till almost smoky (2 mins). Remove wok from heat and toss in garlic and shake wok to not burn garlic. Just before garlic starts to brown (30 sec to 1 min) return to heat and add beef. Stir fry for 1 min, add fish sauce. Add water chestnut and bamboo shoots. Lightly season with salt and pepper (be careful, fish sauce is really salty). Add watercress and mix until slightly wilted (easy to mix by folding with tongs if you aren't great with chopsticks). Cover wok with large pot lid or plate if you don't have one. Turn off heat and keep covered (for another 5 mins).
Dipping sauce (not optional, it's what makes the meal so good!!):
2tsp salt
2tsp pepper
juice from 1 lemon
Mix in small bowl.
Serve stir-fry with rice and dip in the sauce.
BOOM!
Hope you enjoy as much as I do :D
Toodles.
J&H
p.s. We also had soft tofu drizzled with a hoisin sauce/soy mixture topped with scallions, and the leftovers were even better today at dinner!!