In the days leading up to our recent road trip, I was so excited I couldn't handle myself. That always seems to be the case when I'm "going back." Toledo is not exactly a tourist destination, but for the 4 of us piled into the sweet Mazda 5 minivan rental car, it was an amazing get-away. As usual, the weekend was filled with good friends, good food, and great memories (sorry to cheese-ball it up)... and a coincidental escape of hurricane Irene! (only a few drips from the ceiling in the kitchen, I suppose we can't complain since the house was built in 1902).
We stayed with our friends the Knaggs' who were celebrating a new baby
and
a first home! ...
and
they let us stay with them even though their lives are pretty hectic right now. This is how you know you have good friends. I got to spend some quality time with little miss 1-month-old Lucy (...or Rucy as Mr P likes to say, but oddly enough we have a friend who's
real
name is Rusie, so it was pleasantly familiar to hear him keep calling her that all weekend!) I was obsessed with her little piggies that don't stop moving and her super soft baby skin. The first thing Mr P did when he saw her was give her a kiss on the top of her head and then whispered "she even smells like a baby!"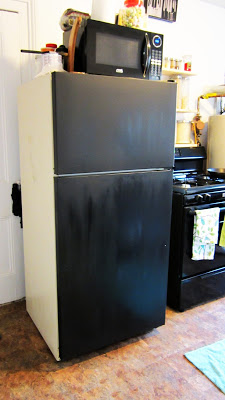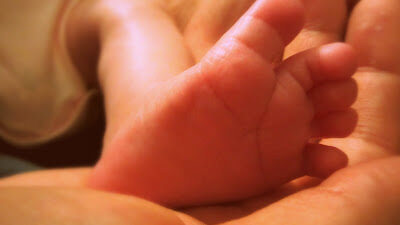 piggies are soooo small!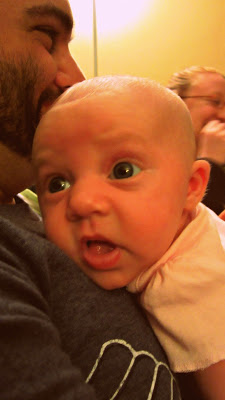 lookin like her mama :D
Friday was not long enough. Once we settled into the Knaggs' new house, we took off for
Doc Watson's
in Toledo to meet up with my friends from college. I've msised them soooo much! Why can't everyone just move closer to me, darn it!! (kidding, I know my sometimes crazy life on the east coast is definitely not for everyone... but I wish it was!!) Toledo is only home to a select few of my friends, though, and I'm so thankful that the rest of them that joined were able to drive and hour+ to see me. The best thing about meeting up with my old friends from high school and college is that when we see each other, it's almost like we just pick up where we left off, whether I saw them 2 weeks ago or 2 years ago. It's a nice feeling, and it makes me guilty for not keeping in touch as much as I would like to. I miss you guys already!!!!
Before Mama Knaggs and Baby Knaggs got up Saturday morning, Papa Knaggs even cooked breakfast for us! We each had our choice between a spicy beer omelet and a buffalo chicken omelet. I opted for the spicy beer omelet and Mr P opted for the buffalo chicken omelet: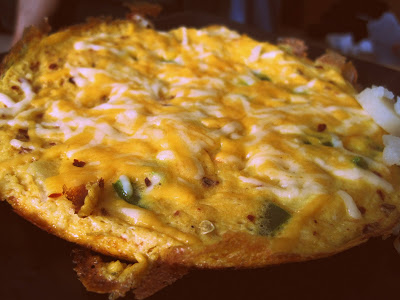 my spicy beer omelet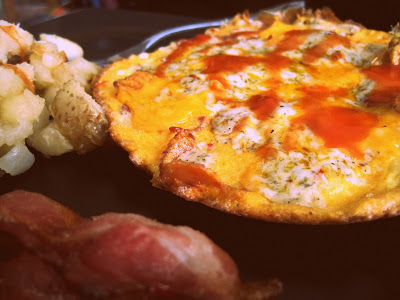 Mr P's buffalo chicken omelet
Both dishes were prepped in a new kitchen in a new house and our chef du jour didn't know where everything was located yet, but he pulled off two hearty breakfasts for a big day ahead of all of us!
Everyone but myself stayed in Toledo, ate good German food at the German American Festival, and went to a karaoke sushi bar! What an awesome idea, right? Karaoke and sushi? I'm so mad at myself for mistakenly taking Mr P's brand new anniversary-gifted camera with me in my purse to Columbus! I can only imagine adult men belting out Lady Gaga's Bad Romance in a public place..... (sigh)... boys.
As mentioned, I took off for Columbus Saturday afternoon with one of my best friends from high school to go to another high school friend's bachelorette party! (Congrats to the future Mr. and Mrs. O'Dell, and see you again in a month! Follow the bride-to-be in her last month before becoming Mrs. O'Dell at her blog,
It's Good to be Queen
). The day started off with drinks and (mostly naughty) gifts with the girls, then it was off in the party bus downtown for dinner, drinks, and more drinks. Needless to say I was
not
feeling well for 80% of the 12-hour trip back to Hoboken! Good thing the rental car was $50/extra driver and I didn't make the cut to drive and got to sleep as much as I could.
Regardless though, I had fun the entire weekend with some new friends, old friends, and even the mother of the bride who attened the whole bachelorette party!
Cheers to a great weekend in Ohio, and here's to hoping it's not long until we do it again! Thanks to everyone who squeezed in the time to see us :D
Toodles.
J&H