Mr P and I have put the kibosh on getting more kitchen appliances, with the exception to attachments to the Kitchenaid mixer. Our friends, Nick and Christina, however have almost convinced us that we
need
a deep fryer. They didn't say it in words, they convinced us through making amazing deep-fried Lake Erie perch. Though they say that since they use theirs max twice a year, we could just borrow theirs whenever we need it, it surely would be nice to have one of our own. We really
don't
need one though, we absolutely don't have the space for one, and our figures
certainly
don't need one either (sigh).
When they first asked us to come over for a fish fry, I was expecting over-battered fish with an accompanying deep-fried side like fries. I was pleasantly surprised when the fish came out with a light batter, served over a bed of romaine, tomato, and onion tossed in a lemon, salt, oil dressing (sounds salty, and tastes salty by itself, but goes
sooo
well with the fish). It was a great way to make a deep-fried dish taste summery and light.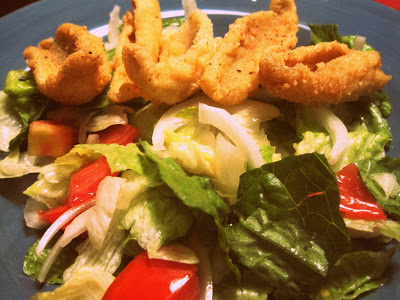 Thanks Nick and Christina! We will leave the deep-frying to you though, and we will bring over homemade bread and wine whenever you want to host us again :D (because we just can't get more appliances... even ones we
really
want)
Toodles.
J&H