It's rainy. And though it cooled off outside, it just makes it gloomy outside. Mr P walked really far in the rain, and I worked late, which means it's a bad combination for enthusiasm for cooking tonight.
Mr P ate a sammich when he got home, and I ate a little extra for lunch, so we just kept it simple... asparagus and zucchini (sliced to the size of asparagus) under the broiler tossed in salt, pepper, and a drizzle of olive oil plated with fresh tomatoes with salt and pepper, all drizzled with balsamic vinegar after plating... delicious!!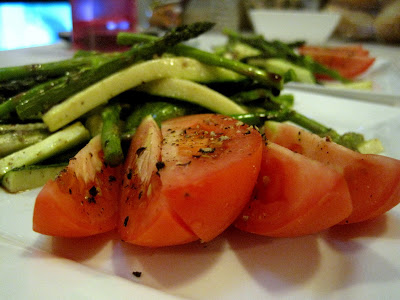 Now if only we had good tomatoes... I'm totally jealous of all of you with gardens!!
Toodles.
J&H