whaaat? who has a wedding in
JANUARY!!??
well, i suppose if your dream honeymoon is to spend a week in vail snowboarding (
THEN
another weekend in sunny beach weather), there's no better time then january to get married! my work buddy caroline became a Mrs. this weekend to her hubs jason (congrats, again, you lovebirds!)
the wedding was in NJ outside of philly, so we decided to stay in philly with our friend zack instead of driving the 1.5 hours or so to get there. after a late night in the office for mr p, we hit the road, got to philly later than we expected, so we had the party come to us!
more friends made their way to zack's for a night of drinking games and an impromptu ke$ha dance party. coors light, ke$ha, and trashy dancing... sounds like we were having one of the parties in her trashy songs! haha (no... we're definitely classier... i
DON'T
throw glitter to make it rain and i
DON'T
brush my teeth with a bottle of jack)
the wedding on saturday was a blast! our whole table was filled with girls from my company and their dates, so it was a fun time to dress up, put on some heels, grab a drink, and let loose with the girls instead of being all "professional" at work.
totally kicking myself in the butt for not bringing a camera to the gorgeous wedding, but i at least had the notion to take pictures of a few items from the
RIDICULOUS
dessert bar! this wedding had by far the best food of any wedding i've been to. we were halfway convinced that there was no real dinner after stuffing our faces with the amazing hors d'oeuvres. luckily caroline's mother came up to us and told us to save room, because a full dinner and desserts were still to come!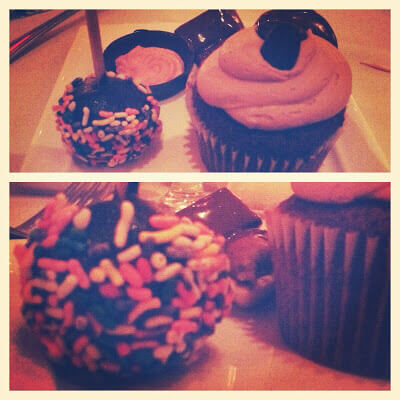 for some reason i feel guilty for loving cake pops.
needless to say i did
NOT
stick to the detox plan this weekend. i've decided that if staying on the plan prohibits me from having a good social life, i won't do it. and i will make it up during the week
(hopefully).
when we returned to zack's after the wedding, we were surprised to hear we were expecting another guest! his brother had a layover in philly to go home to ireland, missed his flight due to bad weather, delays, etc. since we had another person tagging along, we decided to get a good brunch before hitting the road back to jersey city.
zack
ALWAYS
talks about a place called
sabrina's
, so this was finally a perfect time to go! i got a chamomile tea and fish tacos!! soooo good! surprisingly the only detox UN-friendly part of my meal was the sour cream and cheese on the tacos, otherwise i was good to go! mr p ordered a burger on a brioche bun (he swears it's the best kind of bread for burgers) with bacon and some kind of sweet chutney on top. the place was super trendy on the inside, and pretty
packed full
of hipsters, but the waitress was really fun, the food was amazing, and we all had a great time!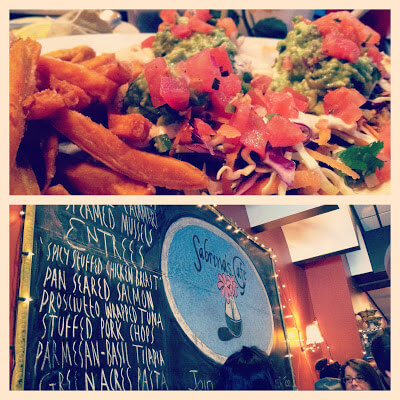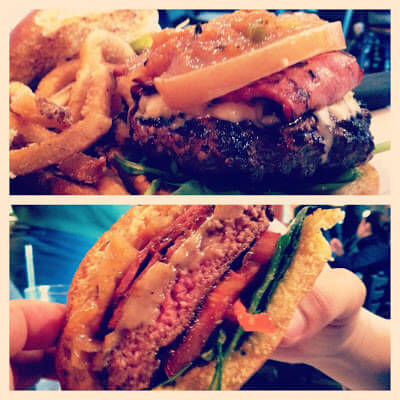 we got home in time to unpack, clean the apartment, and make one of our
FAVORITE
go-to meals, pasta with avocado pesto (
see recipe from an earlier post here
)!! regular linguine for mr p, gluten-free pasta for me... all detox friendly except for the cheese (...pesto without cheese just
ISN'T
pesto)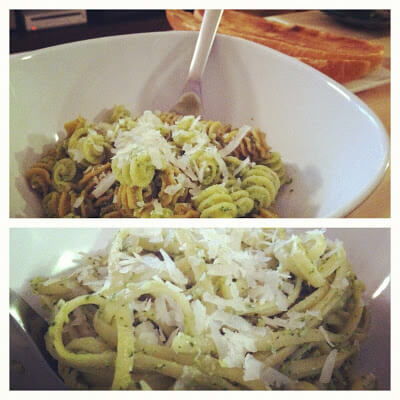 again, great weekend with great friends and great food. sometimes, it just doesn't get any better than that!!
cheers to a positive start to a great week ahead :D
j&h