Does having added-sugar-free, alcohol-free, caffeine-free, grain-free, dairy-free, and meat-free food have to taste bad?
No so. At leat in THIS household!
As you well know, I'm jumping on the New Years Resolution bandwagon and doing a cleanse/detox/gateway to eating better/whatever you want to call it, and I "can't have" those things while during my plan. Later in the plan I can have grains that don't contain gluten and fish. But for this first week it's simply fruit, veggies, nuts, and seeds (yikes!)
I'm doing well so far, slipping just once when the boss took me out for lunch at a diner ( bad new bears for diets like mine!!) and once on Friday when our friends asked us to go to a new restaurant with them. I wasn't soooo bad though, having a bit of cheese and bread on my french onion soup at lunch and added sugar in the dressing on my salad at dinner. I figured, there's only so far I can go before this whole thing affects my whole life. You can't say no when the boss wants to take you to lunch, and I can't say no to friends wanting to go to dinner when we hadn't seen them in a while.
I've started to get headaches in the morning from not getting my normal minimum 2 cups of coffee a day, but I think that will go away eventually. That's the only real negative so far, but it's really a positive in the long run. I get hungry faster, but I am supposed to snack on things a few times a day, so if I'm feeling groggy I just grab a handful of nuts and I'm back to normal in no time. I've been eating a lot of smoothies, fresh fruits, roasted veggies, and nuts. I ate a whole cantaloupe in less than 24 hours (yikes!) but it's ok because that's part of the plan!
Usually at night I've been roasting broccoli or other green veggies, but tonight we made a real meal out of the things I can eat! I saw this recipe for Cauliflower Steaks with Olive Relish and Tomato Sauce on Bon Appetit's website and knew I had to try it. It was pretty tasty, but definitely not as satisfying as dinner should be, so in the future we will eat it with some grilled cheese toast (like Mr P did tonight) or another piece of meat, like chicken parm or something like that.
Here goes! Hope you enjoy!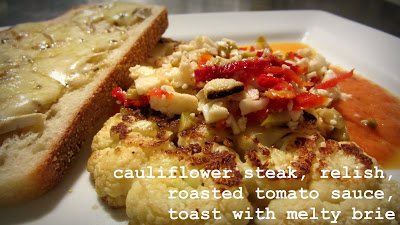 Cauliflower Steaks with Olive Relish and Tomato Sauce
(as provided by Bon Appetit, see comments at the end for our own recommendations)
Ingredients
-

1

large head of cauliflower
- 1/2

cup

pitted oil-packed black olives, finely chopped
- 3

sun-dried tomatoes, thinly sliced
- 3 1/2

tablespoons

olive oil, divided, plus more
- 2

tablespoons

chopped flat-leaf parsley
- 1

teaspoon

fresh lemon juice
- Kosher salt and freshly ground black pepper
- 3

garlic cloves
- 2

plum tomatoes, cored, quartered


Preparation
Remove leaves and trim stem end of cauliflower, leaving core intact. Place cauliflower core side down on a work surface. Using a large knife, slice cauliflower into four 1/2" "steaks" from center of cauliflower (some florets will break loose; reserve). Finely chop enough loose florets to measure 1/2 cup. Transfer chopped florets to a small bowl and mix with olives, sun-dried tomatoes, 1 Tbsp. oil, parsley, and lemon juice. Season relish with salt and pepper.

Preheat oven to 400°. Heat 1 Tbsp. olive oil in a large heavy ovenproof skillet over medium-high heat. Working in 2 batches, cook cauliflower steaks until golden brown, about 2 minutes per side, adding 1 Tbsp. oil to pan between batches. Transfer steaks to a large rimmed baking sheet. Reserve skillet. Roast cauliflower until tender, about 15 minutes.

Meanwhile, return skillet to medium-high heat and add garlic cloves and tomatoes, one cut side down. Cook until tomatoes are browned; turn tomatoes over and transfer skillet to oven with cauliflower. Roast garlic and tomatoes until tender, about 12 minutes.

Transfer garlic, tomatoes, and 1/2 Tbsp. oil to a blender; purée until smooth. Season with salt and pepper. Divide tomato sauce among plates. Place 1 cauliflower steak on each plate; spoon relish over. Serve warm or at room temperature.




cut cauliflower into 1/2" "steaks"




roast in pan on stove, then transfer to baking sheet and bake until soft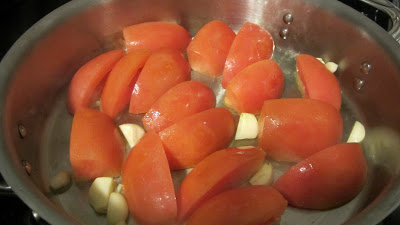 quarter tomatoes and cook in skillet with garlic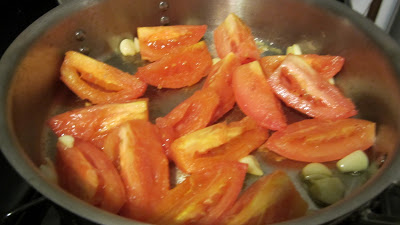 flip and transfer to oven to roast the rest of the way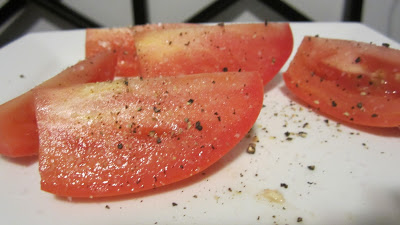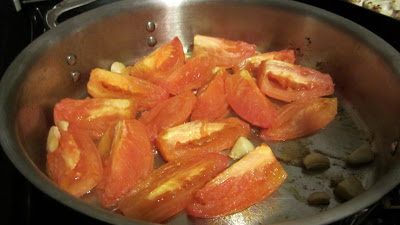 roasted tomatoes and garlic ready to go into blender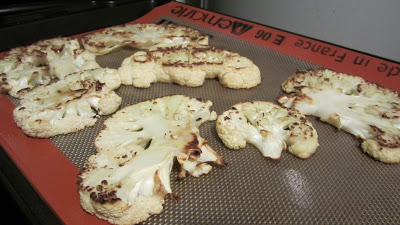 roasted cauliflower ready to serve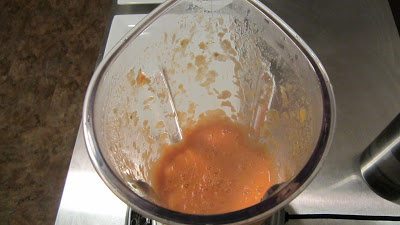 blended roasted tomatoes and garlic with salt, pepper, and olive oil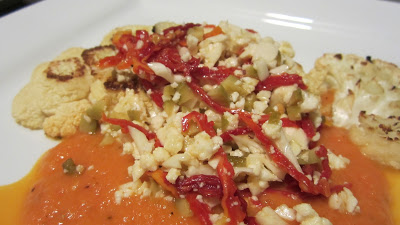 bon appetit! (sorry no pics of making the relish)
Notes from J&H:
- Make double the sauce and relish, you'll end up having too many steaks and not enough of the sauce and relish.
- I'm not a huge fan of olives, but Mr P is, so we used half as many as we were supposed to, and we used green instead of black because that's what we had.
- Mr P ate his meal with a piece of Italian bread with brie, toasted under the broiler so the brie got all melty (and delicious... I totally wanted just a bite, but knew I shouldn't and should stick to my plan!!)
- We also didn't use parsley (because we forgot it at the grocery store! Grrr! ...and didn't want to run back. I definitely suggest using parsley though)
Hope you enjoyed the weekend as much as we did! We tried a new restaurant in Hoboken called the Turtle Club (not really new, but new to us), found a
GREAT
Chinese take-out place a block away (Called Grand Sichuan, many Asian people eating inside is a sign it's good too!!), I spent 4 hours shoe-shopping in SoHo with my friend (so awesome to spend the day outside in the sunny and almost 60 weather in JANUARY!! ), we did laundry, and cleaned the apartment. Not bad for a no plans-planned weekend :D
Cheers to a great week ahead! Only 3 more days until I can eat legumes and fish!!