After coming home from work one day (after going to the mall to pick up
shoes
for a
wedding
), I surprised Mr P with a
Silpat
! He had been talking about getting one for a very long time, but we didn't bake enough things on a cookie sheet to justify buying one. It's a silicone mat that prevents basically anything from getting stuck on it. We've had it for about a month now and haven't used it, but Mr P made a special request that we make cookies! I told him that I would make him whatever he wanted, and surprisingly, he wanted shortbread cookies! Well, first he wanted peanut butter cookies, and then we forgot about them, then he said shortbread cookies. They are crumbly cookies, but not necessarily "crunchy". You sort of "crunch" into your first bite, but then they seem to just melt in your mouth. You can make them as large or as small as you want, but I like to roll the dough into a 1" to a 1 1/2" roll so you can just pop them into your mouth whole!
Anyways, they are the easiest cookies to make, and so versatile! Just 5 ingredients makes the "original" cookie, but you can mix in virtually anything. I have made them in the past with chocolate chunks, chopped pecans, chopped dried cranberries, get creative!
This time I just made the original cookie: flour, sugar, lots of butter, salt, and vanilla extract (well, and almond extract too, secret ingredient). That's it!
Enjoy!
Key tip
: Try to cut your cookies with similar thickness... Mine weren't
exactly
the same, so you can see how brown some get if you aren't paying attention to them!! (They are still good though :P)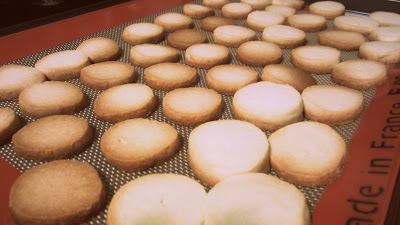 Shortbread Cookies
(modified from
Ina Garten's Shortbread Cookies Recipe
)
3/4 pound salted butter at room temperature (3 sticks)
1 cup sugar
1 tsp vanilla extract (or substitute with 1/2 vanilla extract and 1/2 tsp almond extract)
3 1/2 cups all-purpose flour
1/4 tsp salt
Use an electric mixer to mix together butter and sugar until just combined. Add the vanilla (and almond if you choose), and mix together. In a separate bowl, use a fork or whisk to mix together the flour and salt. Add the dry mixture to the butter sugar mixture. Mix on low until it forms a ball of dough. Take out the dough and form into a disk shape (make sure working surface is floured or the dough will stick!) Wrap the dough in plastic and chill in the fridge for 30 minutes. Take the dough out and roll into 2 or 3 rolls that are 1" to 1 1/2" in diameter. Wrap in plastic and chill in the fridge for at least an hour, or up to overnight.
Preheat oven to 350 degrees. Slice dough into 1/2" disks and place on non-stick cookie sheet or sheet lined with a Silpat. Bake in oven for 15-20 minutes or until the cookies start to brown. Keep your eye on them, especially if you think you sliced them thinner than 1/2"!! Once they start to brown, they get REALLY brown really fast.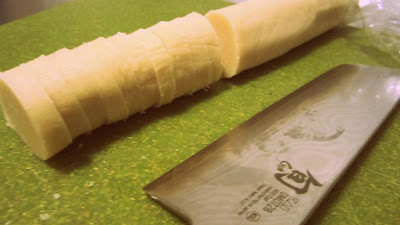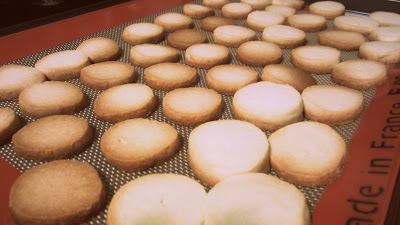 Allow cookies to cool, and enjoy! If they are soft when they come out of the oven, don't worry, they will get their crunch when they cool.
Toodles.
J&H