All last week I have been secretly been working on crafty "custom window treatments." I wasn't so sure they would turn out ok, so I wasn't going to post if they didn't turn out ok. I had a plan to make fun window treatments for ALL of the windows in our apartment. All 6 of them, lol. For around here, having 6 windows is pretty amazing, but for those of you with single-family homes, 6 windows is
nothing
! We are lucky enough to have 6 windows in 4 rooms, 2 in each the living room and the kitchen, 1 in the bedroom, and 1 in the bathroom.
I completed 5 of the 6 windows between last week and this weekend, leaving the bathroom for last for the bottom of my priority list. It has that cloudy stuff on the windows so you can't see inside. The bedroom and the living room have the same crafty style: white roller shades with a ribbon decor with white sheers on the side. The kitchen has "custom" roman shades made with light teal fabric I bought at the fabric store and the cheapest mini-blinds I could find.
For the living room and bedroom roller shades, I simply hot glued a ribbon pattern onto the shade. I saw
this
article on
apartmenttherapy.com
and instantly wanted to try it! I had to use a roll of ribbon for each shade (about $3.50/roll) and each shade was $7.50. I thought that the roller shades would look good by themselves, but once I put them up, I decided it looked too bare, and I wanted to add sheers for a fuller, but light look. I found white sheers at Target for $5/panel, making the cost per window just $21. Not too bad if you ask me!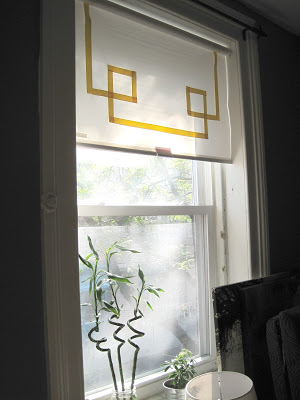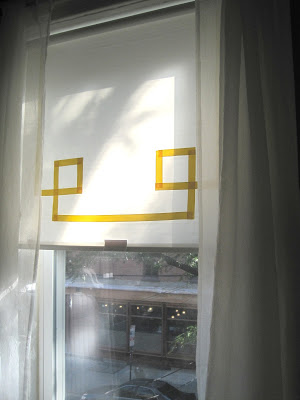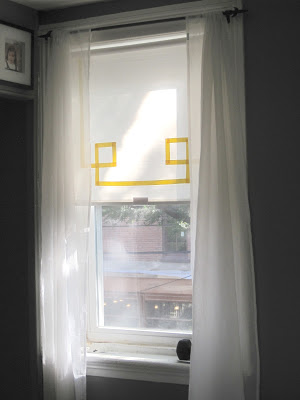 For the kitchen windows, I fabric-glued fabric to mini-blinds! When I was at home depot buying the shades and the mini-blinds, the girls helping me were soo leery of my plans for making these... I guess they just didn't have my vision for it. The one girl told me to bring in pictures when I was finished, so I am totally going to go back there just to show her! (Mr P and I are bff's with 90% of the people who work at Home Depot since we were there every day for a few weeks, and have been there at least once a week the past few weeks). My inspiration came from
this
article on
Little Green Notebook
. I just thought it was a fun idea for window treatments that wouldn't cost too much. The mini-blinds were just $3.50 at Home Depot! CRAZY,
right
? I bought the fabric from JoAnn Fabrics for just $5.99/yard. For each shade I bought 2.5 yards, though I'm positive I could have gotten by with 2 yards. That made each shade cost around just $19! I think they look great, but you can still see the slats of the mini-blinds on the back side, so I think I will get white fabric and put on a backer for it so the slats will be a bit more hidden.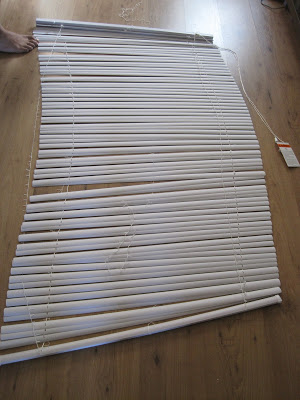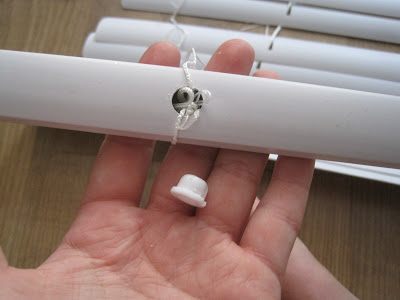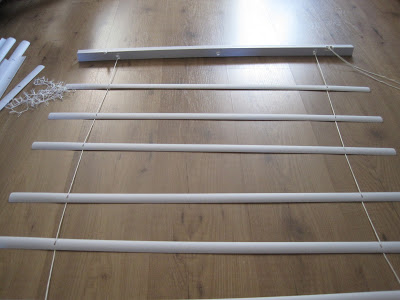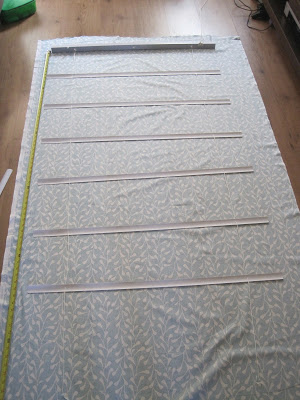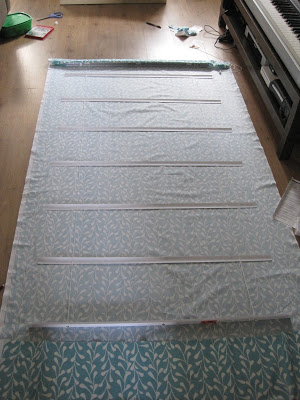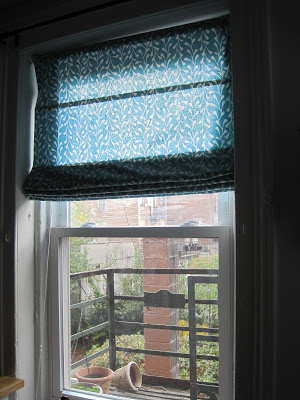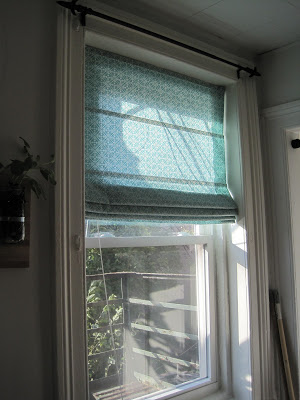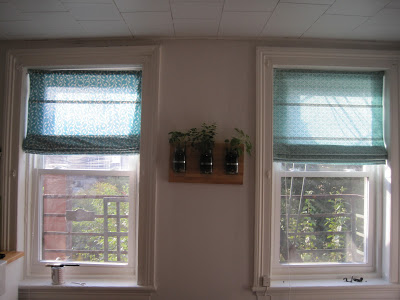 I'm so happy with my results of trying to be crafty! I had my eye on these projects for a long time (my eyes were on the roman shades even
before
we decided to move!) Keep these ideas in mind if you are looking for simple, cheap, custom window treatments :D
Toodles.
J&H