Last night Mr P and I decided to freeze what was probably half of the
pulled pork
from the 8 lb
pork shoulder
we
slow-cooked on Sunday
. So today we decided to cook a meal with NO meat! I'm going to try to convince him to eat a meatless dinner once a week (we will see how long that lasts), but considering how
amazing
and
fast
dinner was tonight, it
might
not take much convincing!
We cooked a creamy avocado pasta that we found on
Oh She Glows
. It was quick to make, I didn't help with dinner at all (but it's ok I am doing a fun crafty project for the apartment), but Mr P says that he made the sauce in the time it took to cook the pasta!! We thought we had basil in the fridge, but once we got home we realized it was no good anymore, so Mr P picked a few leaves from our
basil plant
at home! It was also creamy without adding heavy cream, because of the (healthy :P) avocados.
Bon appetit!!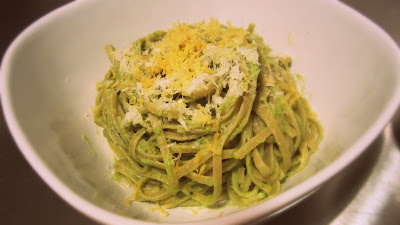 (1) medium sized ripe Avocado , pitted
zest of 1 lemon
juice of 1 lemon
(3) garlic cloves
(1/2) tsp kosher salt, or to taste
(1/4) cup fresh basil
(1/2) cup freshly grated parmesan (our addition)
2 tbsp olive oil
2 servings (or 6 oz.) of your choice of pasta (we used whole wheat linguini)
freshly ground black pepper, to taste
Bring a pot of salted water to a boil and cook to al dente, or according to package instructions. While the pasta is boiling, make the sauce by placing the garlic cloves, lemon juice, and olive oil in a food processor. Process until smooth. Add in the pitted and peeled avocado, basil, and salt. Process until smooth and creamy. When pasta is done cooking, drain and rinse, and add back to the pot. Pour the sauce over the pasta and toss until fully coated. Garnish with lemon zest and black pepper. Serve immediately.
Note: This dish does not reheat well due to the avocado in the sauce. If you plan to make extra for leftovers, reserve leftover sauce aside, and only heat up pasta later. Do not reheat sauce.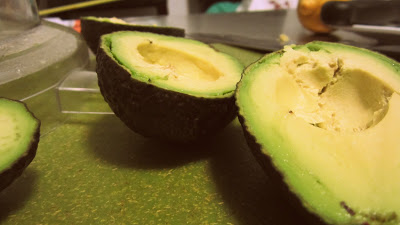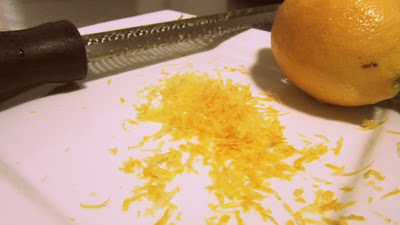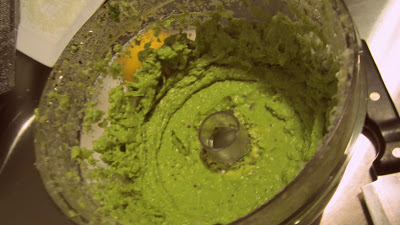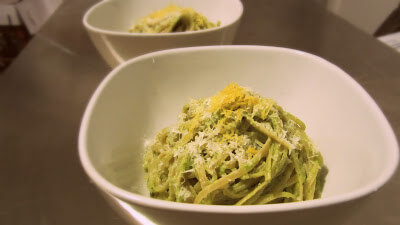 Enjoy! We definitely did :D
Toodles.
J&H