First off, date night requires "date night shoes".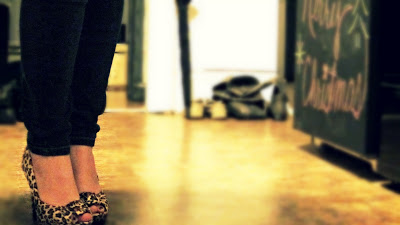 Secondly, I think it's safe to say we won't be going back to
Trinity
in Hoboken. This restaurant has a lot of things going for it. It's got a decently sized bar, lots of tables for dining, it's located right next to the ultra posh
W Hotel,
and it's on the Hudson River with panoramic views of Manhattan stretching all the way from the Empire State Building to the Freedom Tower. I think this place has stayed open for so long because it can easily draw in the average "this place is amaaaaazing, it's right on the water" kind of people that think it's just good because of the location, size, and atmosphere.
For people like myself and Mr P, we want to know that the service is good and the food is good (and we have a good time too). Well, the service was good, and our waitress was very nice and talkative, but the food was so blah.
I don't think that "blah" should describe an $18 pork chop
. Mr P ordered a burger because nothing on the entree menu popped out at him. It wasn't his favorite because they toasted the bun (but that's a personal preference that could have been avoided). My pork chop was a little over-cooked, but the charbroiled taste from the grill hit a good tastebud. It was paired with a red cabbage slaw and chunky apple compote (which was really just some ganny smith's diced in some Mott's applesauce and heated up... at least that's what it tasted like). The slaw was greasy and heavy, instead of light and had a very dark taste.
Ok ok enough about the blah food. At least we had a livingsocial.com deal, $25 for $50 worth of food, and a complimentary bottle of wine to boot. We actually had to order an appetizer (we NEVER do that) and TWO desserts (heck, we never even order ONE!) just to get the bill over $50.
What is date night without a stroll in the park?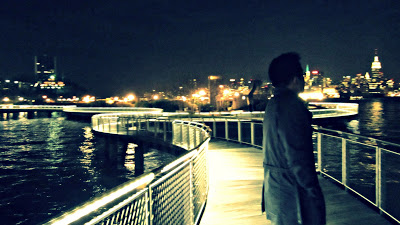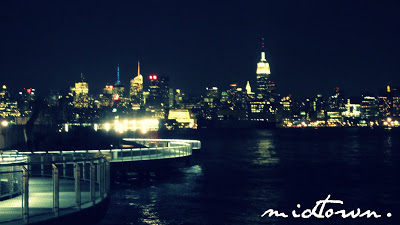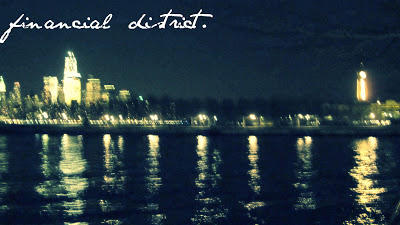 It was fun, with fantastic Manhattan skyline views, but the best part was playing in the park! Well, until the park guard kicked us out because it was closing.
Boo
... ruined our fun! Do any of you remember that wicked tilted spinny thing at Smiley Park (is it still there??) Well, I remember it being rather small. This park installed one that I swear is meant for adults, because it's AWESOME and HUGE! I wish I would have gotten a picture of Mr P laying all sprawled out on it spinning. It was so funny. But when I just got him spinning fast the guard kicked us out... (
Boo!
)
This youtube video
gives a good idea of how awesome is this brand new park (the spinny thing is by the big slide).
The night was good none the less, a date is a date, we still had fun, even with blah food and getting kicked out of the park when we were just starting to have fun! A quick peruse through Best Buy and Pier 1 and we called it a night :D
Toodles.
J&H