I got home late from work, after getting an oil change, heading to Home Depot, and Shoprite. When I got home the
homemade bbq sauce
was cooking, fresh salsa was made, and cole slaw was done. Mr P is just
awesome
sometimes... (though he will say he is awesome
always
). He was in the midst of making pulled pork tacos!
Yesterday I mentioned that we
started cooking dry-rubbed pork in the crock pot
. We started cooking it around 6pm, and cooked it basically a full 24 hours! That's a
long time
! I wish I would have taken a picture of the bones... there was not even a trace of meat on the bones. While Mr P and I waited for the bbq sauce to simmer down, we kept nibbling at the little brown bits from the outside of the pork shoulder (crunchy, dark,
super
flavorful, the best). Remember I said we got it for $0.99/lb? Well, this huge bowl of pulled pork only cost us $8! Just
one
pound of lunchmeat is $8 sometimes! You
might
get 2 pounds if you are lucky. Find the recipe for the pulled pork
here
.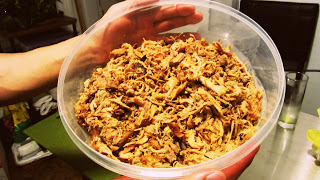 We heated up tortillas on the grill pan, put everything on the coffee table, and started eating!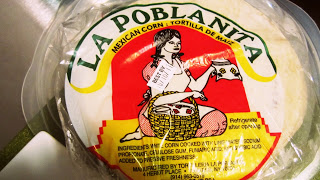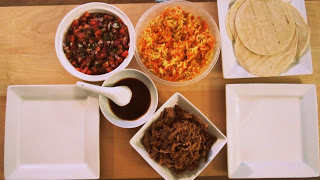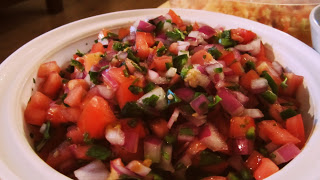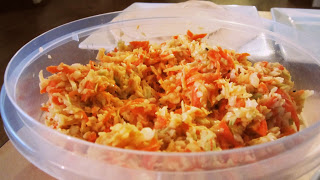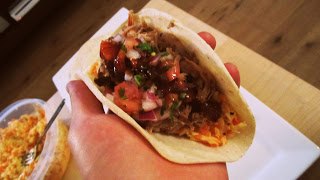 BBQ sauce and fresh salsa was a pretty good combination that I was a bit leery of before I ate it. I think part of it was the fact that the salsa was cold and the BBQ sauce was still hot. Mr P and I have come to realize that having something hot and something cold in our mouths at the same time makes whatever we are eating just better!!
Fresh Salsa
2 diced tomatoes
1 medium red onion, diced
1 jalapeno, diced
handful of cilantro (or to taste), rough chopped
juice from 1/2 lime
salt pepper to taste
Chop all veggies, squeeze in lime juice, toss together, taste, then add salt and pepper to taste.
Carrot Cabbage Cole Slaw
1/2 head of cabbage
1 large carrot
2 tbsp mayo
juice and zest of 1 lemon
1 1/2 tsp sugar
salt and pepper to taste
Shred cabbage and carrot with shredder attachment to food processor. Put in bowl and add mayo, lemon and zest, and sugar. Toss, taste, and add salt and pepper to taste.
While I was at Shoprite today, I ended up finding chalk for our new
chalkboard fridge!
This is the results of when a 24 year old and a 27 year old have a big chalkboard: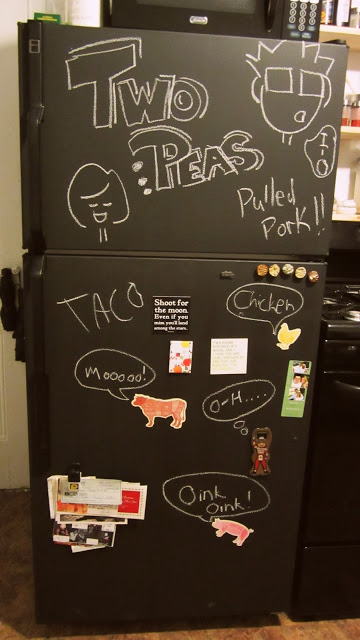 There are some days you need to be reminded that it's ok to act like a kid sometimes... tonight was one of those nights!!
Toodles.
J&H