After staying until 3am on Saturday night (Sunday morning) with friends visiting from Ohio, I'm shocked at how much we got done today! After a trip to Game Stop, Home Depot, and the grocery, we still managed to start food for the week (in the crock pot of course) and finish some projects for the renovations.
Shoprite sent us coupons for limes (8 for $0.99!!) and pork shoulder (our
favorite
, $0.99/lb, crazy!), so our meals this week will include pulled pork and lots of limes (unless we end up making limeade).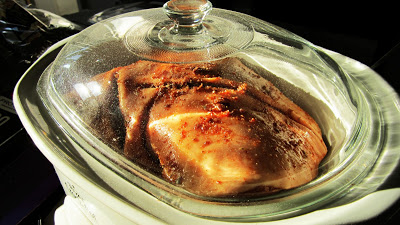 Mr P spent most of the day finishing unfinished projects and decluttering. Decluttering seems to be the word of the day, everyday, lately... but our place is starting to feel more and more like home just by giving things a home (or throwing them out!)
My big project of the day was painting the fridge! It's a crazy idea, but I've seen
a few articles
on
apartmenttherapy.com
on painting the fridge with chalkboard paint. I never thought I would have the opportunity to do it, because most rental landlords would shutter at the idea of it. We are lucky to be able to do what we want with this place, and
trust
me, it looks soooo much better! And it will be fun to write little notes to each other in chalk, or write down grocery lists, whatever, it will just be fun.
All I did was lightly sand all of the paintable surfaces with 100 grit sandpaper, then paint 3 coats of chalkboard paint, allowing it to completely dry between coats. I used
Rustoleum Chalkboard Paint
, and it was no more than $16 (don't remember for sure).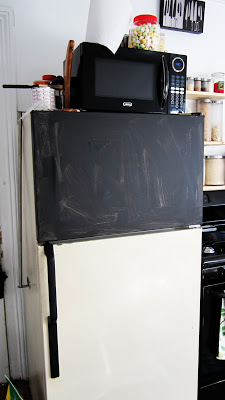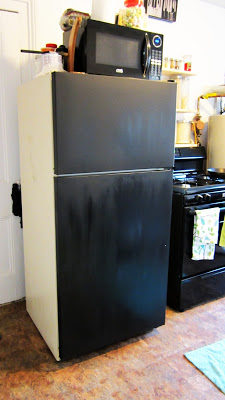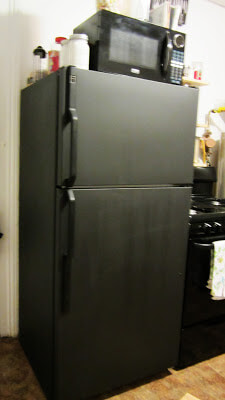 Lastly, I did a project with herbs that I have been dying to do for a long time. I hung 3 herbs on the wall planted in mason jars! I saw the idea on
this article
on
notjustahousewife.net
, and fell in love. I used leftover butcher block countertop for the wood, 4" hose clamps, and wide-mouthed quart-sized mason jars. I used river rocks at the bottom (to hopefully prevent molding since there's no drain on the jars) and planted the herbs with potting soil. I screwed the clamps to the board, screwed the board to the wall with drywall screws, then slid the jars in the clamps and tightened the clamps. Simple as that! Now lets just hope they last and we have fresh basil, sage, and mint all winter :D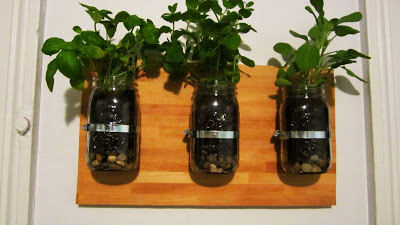 I'm looking forward to having pulled pork all week! Pulled pork tacos here we come!
Have a good week!
Toodles.
J&H