First off, I think I jinx myself whenever I blog about my fall decorative plants on the stoop. Mr P and I left the house to meet up with friends at Nha Trang for breakfast/lunch on Saturday, and we noticed that
someone stole my kale
!!!! So now I'm down to two plants, when I started with 4. People make me
angry
!!
Secondly, one day this week Mr P saw
this article
on thekitchn.com to make
this sammich
, came home with all the necessary groceries in his arms, and got to work making the sammich with homemade tomato soup to go with it. It was kind of funny because he's always been the one to get started on working on the apartment right away after work, but I think he spent most of the night working on the food... signs of fall means heating up our kitchen will be ok which means
Mr P is back in cooking season
!! yayaya
Basically it's a grilled cheese sammich that tasted like a jalapeno popper, literally! We only used roasted jalapenos, cheddar cheese, and cream cheese (and bread and butter), and it was still amazing. We added djion mustard to the sammiches because we didn't have ranch, but next time we're totally trying ranch dressing! Unlike most kitchens, we don't keep hardly any salad dressing on hand because we normally make out own.
We finally got the opportunity to use our grill pan that has been lingering in the apartment for months now, which means we got nice grill marks on the sammiches.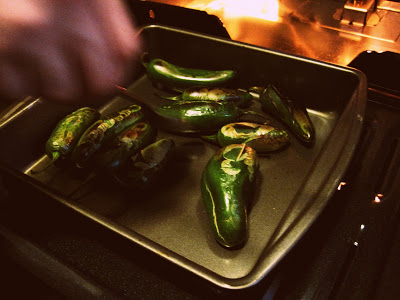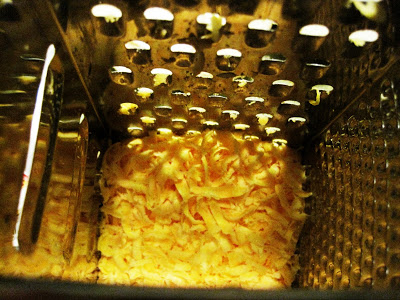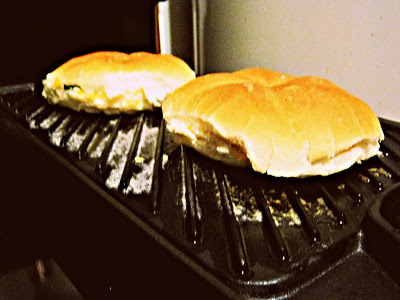 Next was the homemade tomato soup! If you have never had homemade tomato soup, I dare you to try. It's super easy and tastes sooo much better than Campbell's! I probably wouldn't have ever thought of making it at home if it weren't for Mr P and his "we can make anything from scratch" mind. The only special tool you need is an immersion blender (or stick blender), unless you want to transfer boiling hot soup into a regular blender or food processor to emulsify (sounds scary to me!). Here we go:
(1) 32 oz. can of canned crushed tomatoes
(2) 16 oz. cans of low sodium chicken broth
(1) 8 oz. can tomato paste
(1) cup diced fresh tomatoes
(1) medium white onion, rough chopped
(3) cloves garlic, rough chopped
(1) tsp olive oil
fresh basil, rough chopped
salt and pepper
(1/2) cup heavy cream (optional)
Heat oil in deep pan on medium high heat. Add chopped onions and garlic and saute until onions are translucent. Add canned tomatoes, chicken broth, tomato paste, and fresh tomatoes. Bring to boil, then reduce to simmer and cook until fresh tomatoes are tender (about 10 minutes). Turn off heat. Add chopped basil and "blitz" with immersion (stick) blender until pureed and smooth. Optional: add heavy cream and stir until completely mixed. Serve and garnish with basil.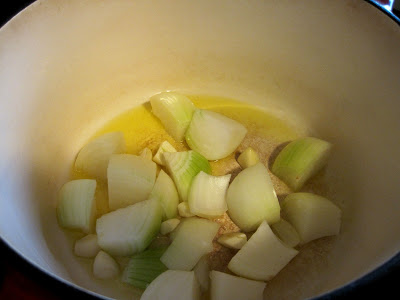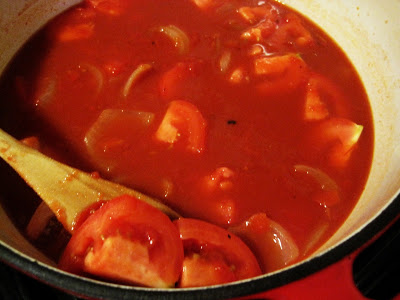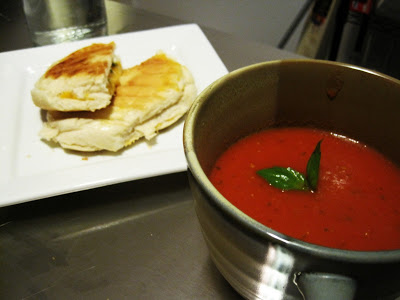 Toodles.
J&H