Saturday was full of food. All... good... food. One of my favorite food discoveries from moving to New Jersey is Jamaican Beef Patties. I was introduced to them while I was working in the Bronx. We had a (rather sketchy) pizza shop pretty close to the jobsite, and there were a few days I couldn't resist the temptation to go to when everyone else was getting pizza! It was there that I discovered Jamaican beef patties. They are sort of like empanadas, except with different seasonings on the beef. The ground beef is seasoned with onion, curry, and other seasonings. For only $2, it was a perfect lunch! Mr P and I found a place in Jersey City that has them as well and got them before heading over to lunch with friends Nha Trang.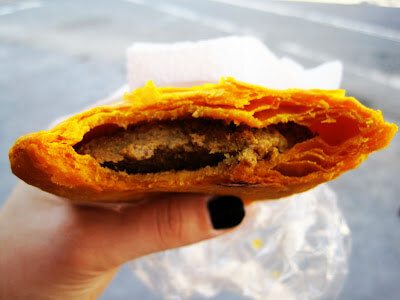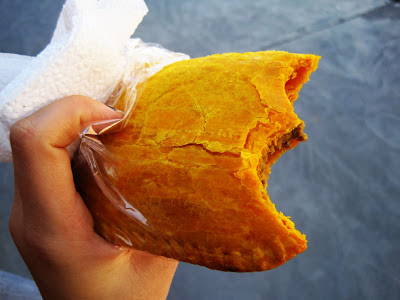 I
mentioned earlier
that Mr P and I wanted to have a celebratory dinner for doing the renovations and for getting a new stove. We've cooked quite a few things on the new stove so far, but nothing worthy enough to deem "celebratory". Last night we had that meal.
We wanted to have something with lamb, but after seeing the price of lamb at the grocery store, we settled for short ribs! Mr P decided to cook them with a side of orzo, and since I've been
dying
to try brussels sprouts we bought them too. I don't remember particularly
hating
brussels sprouts, but they just have that
name
with kids. They
sound
bad, they are
supposed
to be bad, so therefore they
ARE
bad (much like any other typical food that kids hear from other kids that they are "supposed" to hate). I think that was me. And I just had a feeling that I would like them with my new grown-up tastebuds, so I wanted to try them so bad! So, here goes: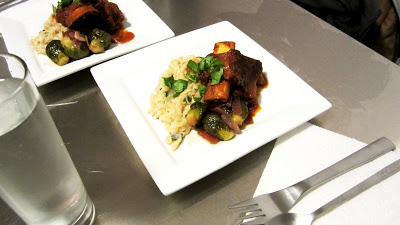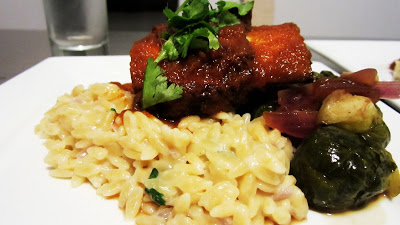 Short Ribs
(Prep time: 30 minutes, Cook time: 3 hours)
(4) beef short ribs
(6) tbsp olive oil
(2) carrots, rough chopped
(3) roasted jalapenos, rough chopped
(1) large onion, rough chopped
(2) celery stalks
(6) garlic cloves (whole)
(1) cup tomato paste
(1 1/2) cup red wine
salt, pepper, bay leaf, thyme
Preheat over to 325 degrees. Heat 3 tbsp oil in a large dutch oven over medium high heat. Season short ribs with salt. Sear all sides of short ribs in dutch oven. As ribs are searing, puree carrots, jalapenos, onion, and celery in food processor. Set aside. Remove browned short ribs from dutch oven. Discard oil, but do not wipe or clean. Add 3 remaining tbsp oil, bring to medium high heat again. Saute pureed vegetables in dutch oven with tomato paste until brown (about 10 minutes). Season lightly with salt and pepper, and add whole garlic cloves. Add wine and scrape brown bits off of dutch over with wooden spoon. Simmer until liquid has reduced by a third and liquid has become dark brown in color. Return short ribs to dutch oven. Add water until short ribs are almost submerged in liquid. Cover dutch oven with lid, place in preheated oven for 2 hours. Remove lid from dutch oven, flip short ribs, return to oven without lid, and cook for 1 more hour. Check periodically to make sure ribs don't dry out too much. If they start to look very dry, ladle liquid over ribs to keep ribs moist. Serve with a ladle of liquid.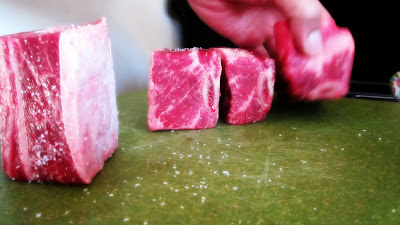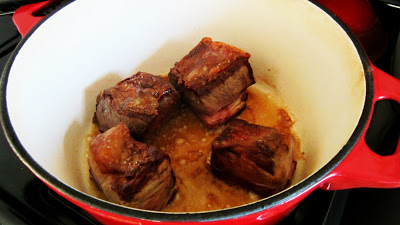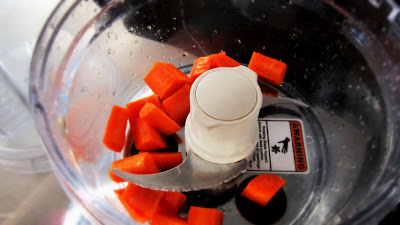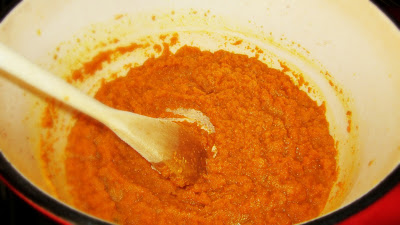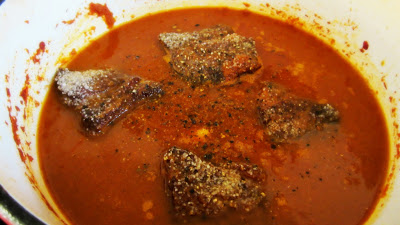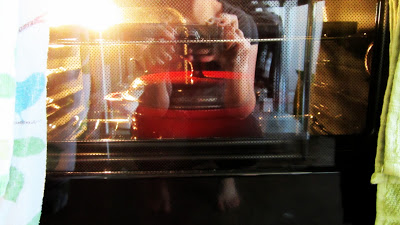 Orzo
(Prep time: 10 minutes, Cook time: 20 minutes)
(1) 16 oz. package of dried orzo pasta
(2) tbsp butter
(1/2) cup milk
(1/2) small red onion, diced
salt and pepper
fresh cilantro, rough chopped
Bring water to boil. Add generous amount of salt to boiling water. Cook orzo to just before al dente (about 7 minutes, or according to package). Drain water, and rinse orzo to prevent from sticking together. In a separate pan, heat butter until melted over medium heat. Add diced onions and saute until translucent. Add orzo and milk to pan, simmer and stir until all milk is absorbed (don't walk away!) Season with pepper, salt if necessary. Turn off heat, fold in rough chopped cilantro. Serve.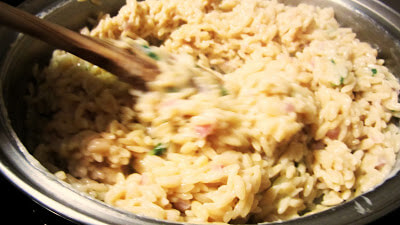 Brussels Sprouts
(Prep time: 15 minutes, Cook time: 30 minutes)
(1) pint container of brussels sprouts
(1) tbsp olive oil
(1) small red onion, rough chopped
(1) garlic clove, sliced
(1) tbsp Ponzu soy sauce (soy sauce with citrus flavorings)
juice of 1 lime
pepper
Heat oil in pan on medium high heat. Add onion and garlic. Saute slightly (about 2 minutes). Add brussels sprouts and Ponzu soy sauce. Season with pepper. Cover with lid, turn heat down to low. Cook for 25-30 minutes, or until brussels sprouts are tender. Turn off heat, add lime juice, and serve.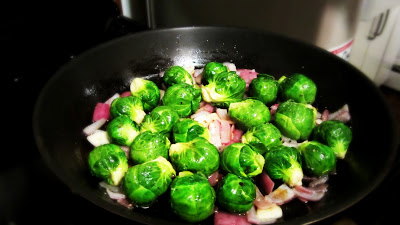 Such a delicious meal! So glad we have leftovers for today :D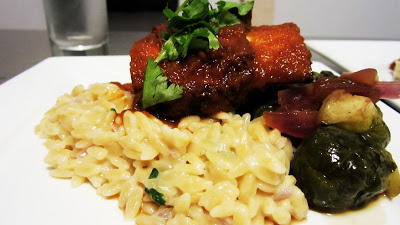 Toodles.
J&H