life has been a whirlwind lately
(as you probably know, if not, see here and here ).
Wednesday was just nice though. i took the day off of work to surprise hung at his office, ate lunch with him and his coworkers, brought
banana cake
from
momofuku millkbar
, and arranged for him to leave after lunch....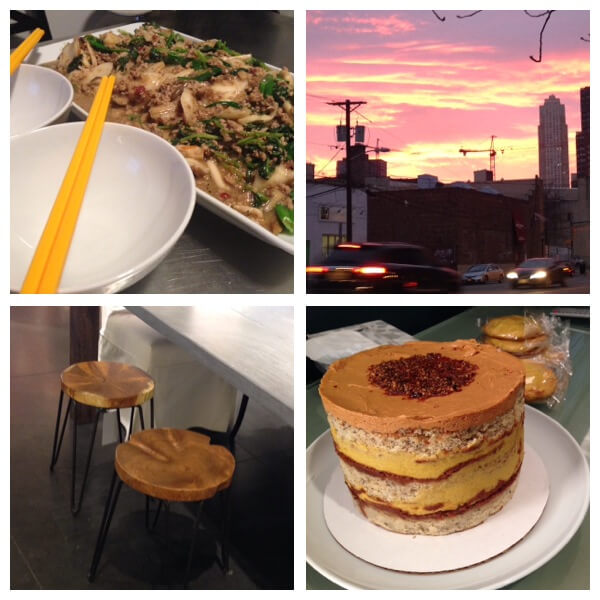 (1) everyday after work we've been eating dinner and going straight to the new house to paint. and paint. and paint. and we're still not done painting. but at least we still get a great dinner before heading over there! hung made rice cakes with pork and spinach on monday. seriously it was like eating the best pork dumplings, but not in dumpling form. hopefully get the chance to make it again and share the recipe with you guys! seriously it's so easy and so delicious. if you see rice cakes on the menu at a Chinese restaurant, GET THEM!
(2) wednesday morning i slipped out of the house before hung woke up to grab him a bagel sammich from
wonder bagels
, and on my quick walk home i noticed the most beautiful sky during sunrise.
(3) i had an hour to spare after picking up the cake but before i needed to be at hung's office. naturally, i went to
crate and barrel
and had NO problem wasting an hour. these stools, they are $150 each. and they are the ultimate inspiration for an upcoming DIY.
(4) that's the
banana cake
. when they said
"a 6-inch cake serves 8-12 people"
i thought they were crazy. but then i saw the HEIGHT on that thing. a sliver is more than enough!
one more tidbit of
(good?)
news, apparently we inherited the title of "condo association president" when we bought our unit. hung gladly took that position.... now we just have to wait and see if that was a good decision or not ;)
happy friday!
jenn