If you don't have a mandolin, go buy one...
now
! You will use it in so many applications that you won't know what you ever did without one (you stand at the cutting board tediously wasting your time trying to slice things into silly equally thin slices). If you had a mandolin, you would slice carrots and cucumbers and onions in your salads, and basically anything that's hard enough to slice.
Don't judge, but I bought a (very romantic) Martha Stewart mandolin for Mr P for Valentine's Day this year (I said don't judge). We needed one, and since he always has the idea that "if I'm going to buy one, I'm going to get the one I will keep forever" and that one that he wants is $300 and he will
never
buy it because it's $300. So, that was my point. We have a cheap one now, and we use it
all
...
the
...
time
. A good one will last forever, but if you are on a tighter budget, just get the cheap one for $10 or $15 and have the time of your life (whoa that's a little much) before you get the good one (learn to use it and like it first,
then
sign up for the good one on your wedding registry and give your old one to charity).
Tonight I had a long workout (I was running on the treadmill when Mr P got to the gym, and I was still running when he left), and when I got home he had already made baked, sliced potatoes to go with our leftovers from last night. We had soup and pork loin, but we didn't really have a side dish, so this was the perfect compliment to both his sliced pork loin sammich and my tomato-y vegetable-y bean-y soup. He just had to slice the potatoes, put them in the ramekins, drizzle with a few things, and toss them in the oven. That's it! So easy! And so delicious. It's a nice little change up to the routine baked potato or mashed potato kind of potato, lighter than true scalloped potatoes, but sort of along the same line.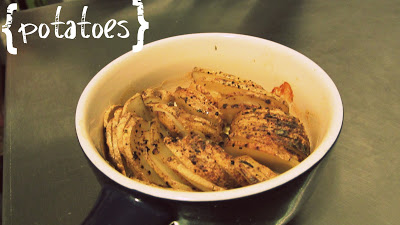 Sliced Baked Potatoes
(medium-sized ramekins fit 1.5 medium-sized potato, sliced... you can adjust your quantities for your type of baking dish)
Ingredients for each ramekin
:
1.5 medium potatoes
1 tbsp heavy cream
1 tbsp olive oil
pinch of kosher salt
pinch of freshly ground black pepper
pinch of dried sage
Instructions:
Preheat oven to 375 degrees.
Slice potatoes on your mandolin, slice thickness isn't that important, so choose the thickness as you wish! Scoop up slices and try to keep them in the shape of the original potato, just sliced. Fan the potatoes in the ramekin in a circular motion, so that a portion of the face of each slice is visible, and the entire bottom of the ramekin is covered.
Drizzle with heavy cream, drizzle with olive oil, sprinkle a pinch of kosher salt, sprinkle a pinch of black pepper, and sprinkle a pinch of dried sage. Cover with tin foil, and bake for 30 minutes. Take off tin foil, and bake for another 10 minutes.
Serve with any main dish! Bon appetit!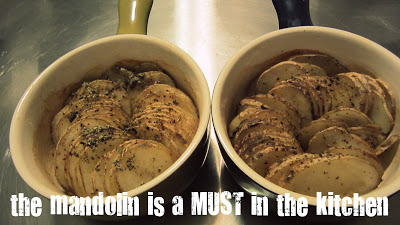 This amount of potatoes gave us a side with our dinner tonight, and a side for each of our lunches tomorrow.
Next time I want to try using sour cream instead of heavy cream (just to try, just because I LOVE sour cream, and just because I can get low-fat sour cream and it will be healthier than heavy cream)
Toodles.
J&H