I like sushi, but I gotta be in the mood for it.
I like Thai, but I gotta be in the mood for it.
I like greasy wings and bar food, but I gotta be in the mood for it.
I can ALWAYS be in the mood for good Mexican food (even though Taco Bell will suffice, sometimes)
I finally found a good, cheap Mexican restaurant walking distance from our apartment in Jersey City!! I was introduced to Taqueria (no website, now you
know
its good when there's no website) by a co-worker at my
company holiday party
, Mr P and I are leaving tomorrow for Ohio and didn't have anything to eat, so we decided tonight was a perfect night to go!
$2.50 tacos? So cheap! Together our meals were about the same price as going to Chipotle (possibly cheaper) and
we supported the little guy, and had MUCH better food.
I had steak tacos and Mr P had pork tacos.... so delicious with 2 corn tortillas, lettuce, cilantro, onions, a radish slice, and a lime wedge for each taco (and green salsa and cheese on Mr P's pork tacos). Finger... licking... good... (except my steak tacos were so spicy they made my eyes tear!! maybe I'm just a wuss... still tasty though)
Though not quite as good as
Taqueria Verzcruzana
in South Philly, this place will definitely suffice when we get a big craving for tacos!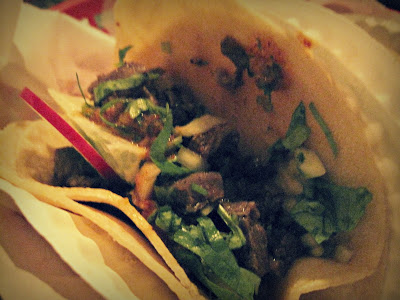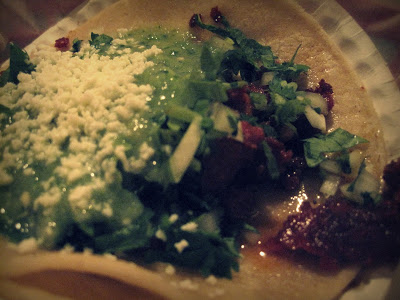 Success! Who wants to come visit us now ? Did I mention its BYOB??
Cheers to a great holiday weekend ahead :D
Toodles.
J&H