(that sounds really bad....)
but, what i
MEAN
is... when you bake a big roast, or pan-fry beef or pork, don't just wash the brown juice and bits down the drain!!!
it will be the "something missing" the next time you make pretty much any hot side dish and you say to yourself "something's missing..."
let's just put it out there, though olive oil is good, sometimes it just doesn't cut it. sometimes you NEED that bit of flavor from the fat of a good chunk of meat to accent your side dish. (next time i tell mr p i want to try being vegan he's going to come back to that line, i just know it.)
last weekend mr p made an AMAZING pork shoulder in the oven. pork shoulder isn't
exactly
the leanest cut of meat, which means we were able to capture a whole container of juices and fat that was just sitting in the bottom of the pan.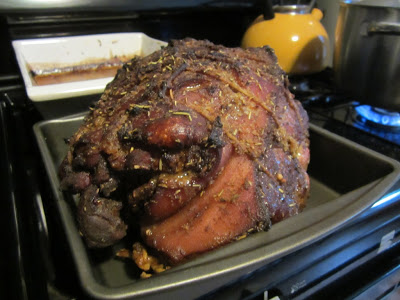 (check out the pan in the back.. those juices are heaven. the pork was cooked with a modified version of this recipe, so the juices are strongly flavored with cloves and allspice)
mr p used the fat/juices to season brussels sprouts on sunday, and we've made special trips to the bodega each night since just so we could eat them with the juices again.
i think i put a smile on mr p's face when i told him "this is just one of those meals that i want to take tiny bites and savor it as long as i can, it's just so good" and when i ask yet again "can we have brussels sprouts for dinner again?" and say "it's going to be so sad when the pork juices are gone" (please don't tell me how lame our usually-food-centered relationship is...)
by now you are definitely thinking "stop talking about these brussels sprouts and get on with the recipe!!"
Shredded Brussels Sprouts with Maple & Meat Drippings
Ingredients:
1 lb of fresh brussels sprouts, cleaned, trimmed and thinly sliced
3 tbls pork roast drippings
(or any pork or beef drippings, bacon fat would be SO good!)
3 tbls maple syrup
pinch of red pepper flakes
1 green apple, diced
handful of walnuts, rough chopped
salt to taste
(if your meat drippings are salty, you may not need any at all!)
1 tsp truffle oil
(totally optional, but if you have it, it adds a nice hint of flavor)
Instructions:
(in the words of mr p)
Heat pan over medium high heat, then add drippings and maple syrup. Once bubbling, add sprouts, apple, and red pepper flakes. Sauté for 5-6 mins until almost al dente and apples have become soft. Add walnuts and truffle oil (is using), then finish sautéing for another 2-3 mins until preferred texture. Season with more salt and pepper flakes to taste.
Boom!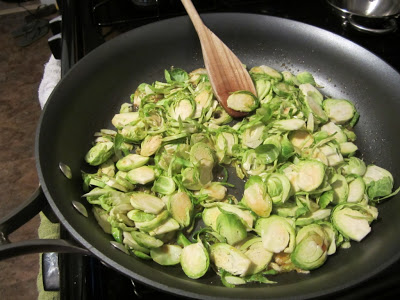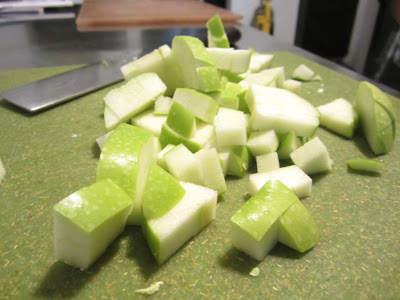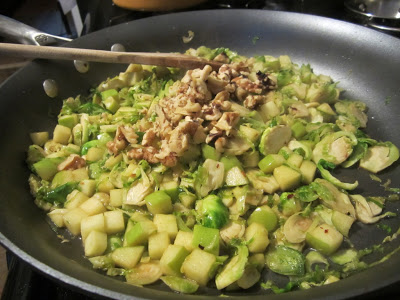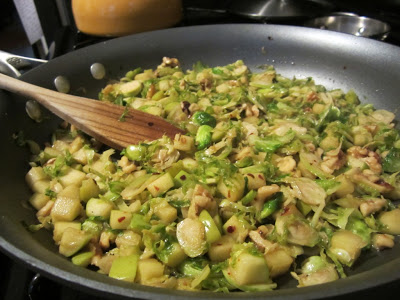 all done!
now go make them and tell me if you or your guests get the same "it's going to be so sad when all the pork juices are gone" feeling.

p.s. warning: our friends came over for dinner on sunday. the one that claimed he didin't like brussels sprouts said he would have licked the plate if nobody was watching, and the one that claimed she didn't eat a lot of meat had two servings of pork!! you might not be able to stop eating this stuff it's so good... so beware!!
p.p.s.
if you are joining from
LIY
, welcome!
cheers.