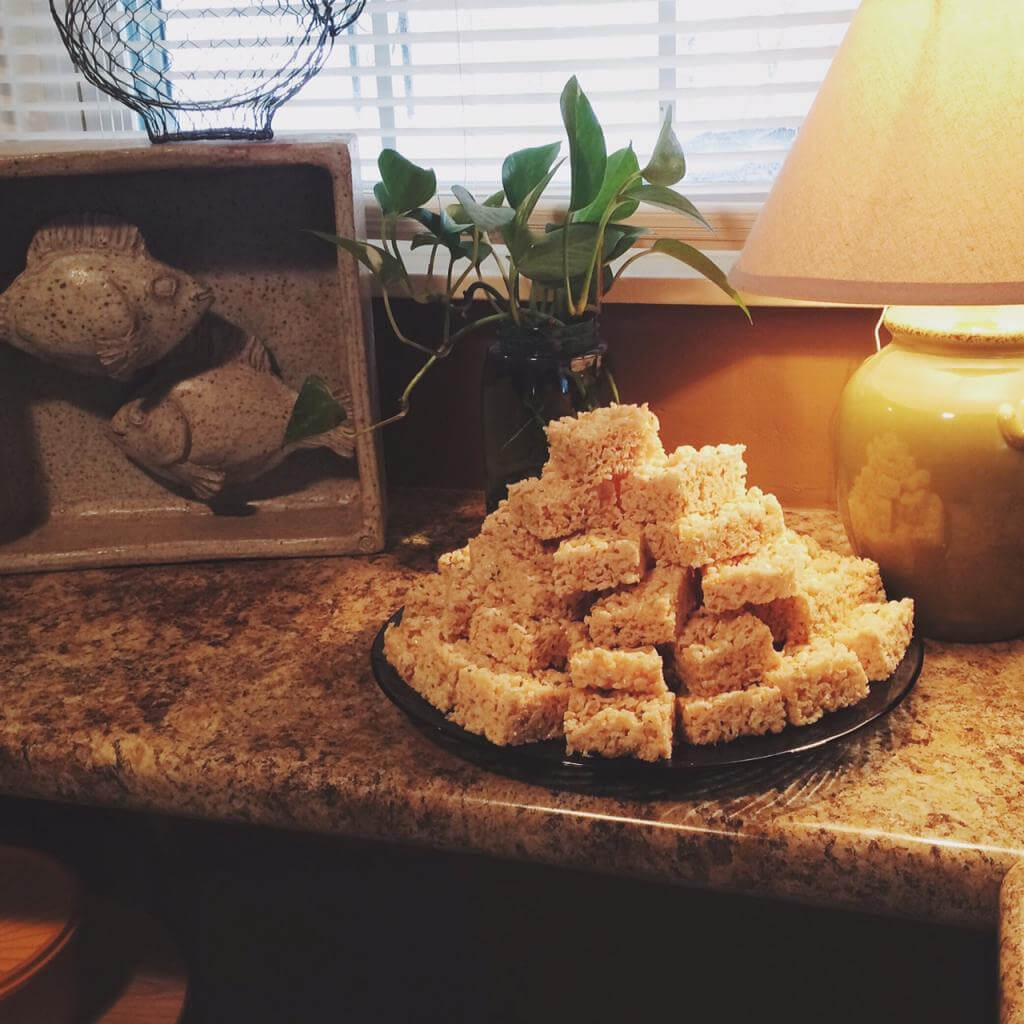 if you follow
@beyondthetoop
on
instagram
, you had to know this recipe post was coming ;)
if you read the title thinking "ew gross" you'll be sticking your foot in your mouth after you try these. our friend made them once during a dinner party, and i
(along with everyone else)
went crazy over them! they are the perfect combination of sweet and savory, and take hardly any more effort to make than regular rice krispie treats with just butter and marshmallow. i made them for thanksgiving, posted it on
instagram
, and was requested to make them again for friendsgiving just a few days later! the lazy girl inside me thought i could get by with saving some from the first batch, but they definitely did not last long enough. the entire batch was GONE before i had a chance to stash them away.
give them a try and let me know what you think! read below for the recipe....
brown butter, truffle, & sage rice krispie treats
4 oz salted butter
10 oz marshmallows
6 cups
rice krispies
1.5 tbsp. chopped sage
(chop really small!)
1 tsp black truffle oil
1 pinch of salt
grease a pan with butter or oil. i use 9x9 brownie pan, but you can use whatever you want depending on how thick you want the treats. you can use truffle oil if you want some extra truffle flavor! keep in mind you CAN have too much truffle flavor, so be careful!
melt the butter in a big pot over medium heat, stirring occasionally with a wooden spoon. keep heating until butter begins to brown.
once butter reaches a deep golden color, add the marshmallows and continue stirring until marshmallows are completely melted.
add salt and 1 tbsp chopped sage, and stir to combine.
turn off the heat and add rice krispies, stir until evenly coated with marshmallow mixture (do this fast! or else it will get too hard too quickly).
drizzle the truffle oil very lightly over the mixture and quickly stir to combine. (use a dropper if you have one!)
turn the mixture out into the pan. grease or wet hands and push mixture into pan until evenly spread out over the pan. the harder you press, the denser the rice krispie treat, so press down "just" enough.
garnish with remaining chopped sage.
notes about recipe:
the amount of salt and sage is totally up to your preference. i feel like i have never added enough! the amount listed is a good starting point.
the amount of truffle oil is also up to your preference. some people think the flavor is too overbearing in general, so you may want to use less the first time you make this. i always initially second guess how much i put in because i can really smell it when i first add it, but it always ends up tasting weaker than it smells when it's hot, so keep this in mind. (truffle oil loses flavor with heat, so it's a delicate balance between adding when it's too hot and waiting til the mixture is too cool and starting to harden)
if you use unsalted butter, just add a few more pinches of salt.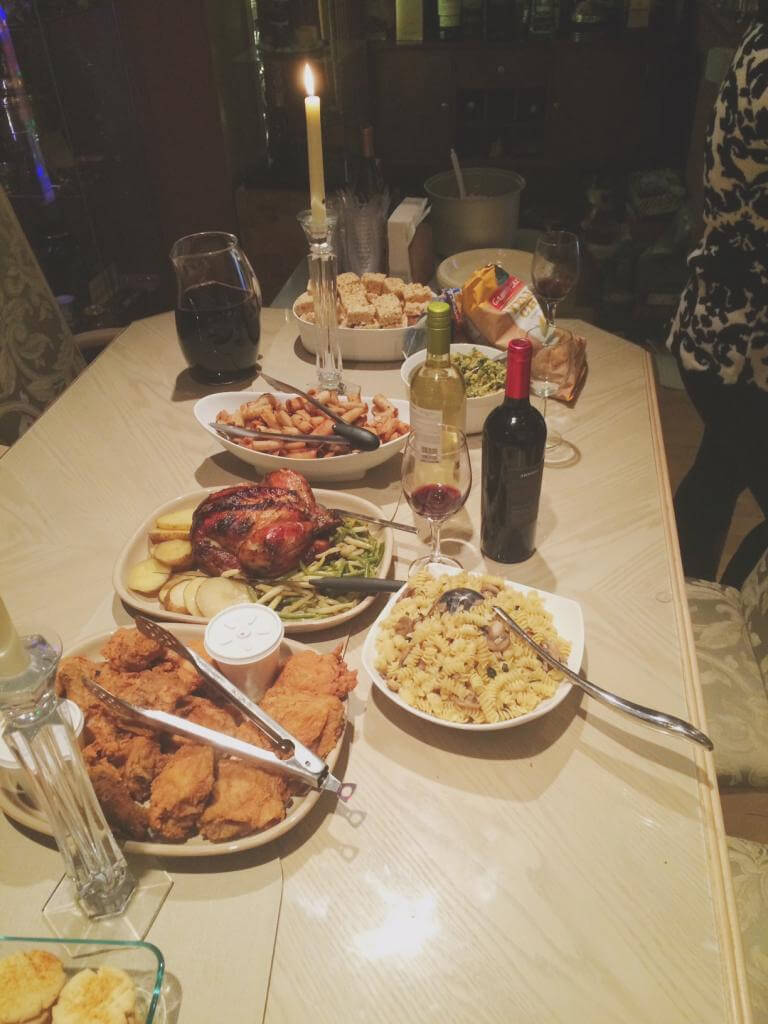 we had quite the spread for our friendsgiving with friends in jersey city! can you see the rice krispie treats in the back!?
also, did you guys know you can get whole chicken dinners from
two aprons
!? i think everybody in downtown
jersey city
needs this little bit of information for their back pocket on those days where you just don't have the time to cook, but don't exactly want take-out style food. call ahead and reserve one, pick it up on your way home!
bon appetit! what other savory additions do you put in rice krispie treats!?
cheers.
jenn