Do you ever accidentally make something that tastes like heaven? ...and you feel like the things you put together to make it
aren't supposed to taste this good
? This was the case with my breakfast this morning.
Yesterday I think my eyes were bigger than my stomach, because I think I packed my entire kitchen to take for breakfast at work. So, today I had leftover breakfast in the fridge from yesterday. I had what I thought was going to be a mediocre (at best) breakfast that turned out to be something so good that I couldn't stand
not
sharing!
I put 1 serving of vanilla Greek yogurt at the bottom of one of those awesome take out containers you get from Chinese take-out, then a thin layer of rhubarb jam, then covered with a generous layer of Grape Nuts (I swear I'm only 24, even though my tastebuds might suggest that I'm 75).....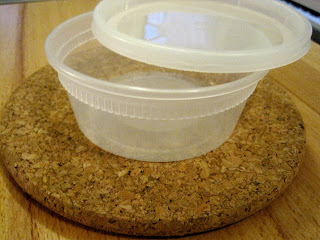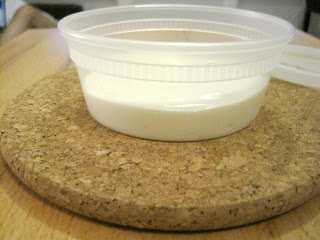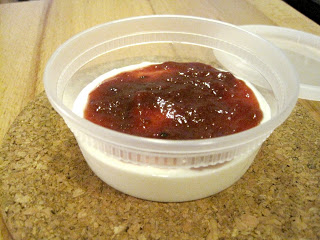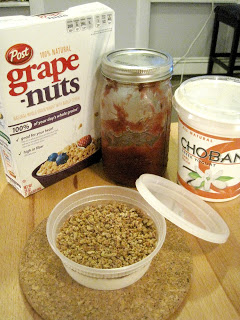 Hesitant that it was going to be a soggy gross mess when I ate this a day late, I ate a scoop of it and was very pleasantly surprised that it was almost like eating cheesecake for breakfast! The Greek yogurt gave the thick, creamy texture of cheesecake, with the rhubarb jam being the fruit topping, and the half soggy half crunchy Grape Nuts being the (upside down) crumbly crust! It honestly tasted too good to be breakfast food, and I almost felt guilty for eating something that seemed like dessert for breakfast.
You know those yogurt commercials where they say they are losing weight by eating "Key Lime Pie" and "Boston Cream Pie" but they are really talking about the flavored yogurt? That's what I feel like I am preaching to you when I say this was
that
good. I know, cheesy, but you just gotta try it!!
(the photos are from tonight when I tried to recreate it, but it's not the same, because it didn't sit overnight yet! the crunchies are still ALL crunchy, and the yogurt isn't as thick because it was sitting out for a while, but it will be delicious tomorrow morning!)
Toodles.
J&H