Check one more thing off the list of things we buy at the grocery store, our first try at making ice cream was a BIG success!
There's a series of articles on
thekitchn.com
called "
Make or Buy?
" and the things they post are usually things that are a no-brainer "buy" for the average person, but I always get intrigued by the things that people "make" on a regular basis. Well, we have now added ice cream to our list of ridiculous things we will "make." After purchasing the book "
Jeni's Splendid Ice Creams at Home
" (as well as the ice cream making bowl attachment for the KitchenAid mixer) we made our first vanilla ice cream. It was simple, easy, and tasted sooo good! It was creamy, smooth, and like Jeni said at her book-signing, it didn't have that ice-crystal-y texture like most store-bought ice creams.
The only bad thing about the ice cream that we made was.....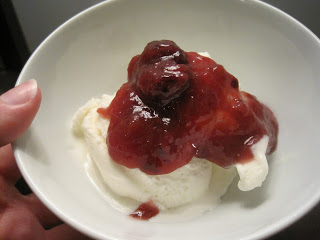 .....we didn't DOUBLE the batch!!
This morning after we woke up, I opened up the fridge to find something for breakfast, I instantly thought of ice cream, grabbed the ice cream out of the freezer, and told Mr. P I was gonna have a spoonful. He laughed, got off the couch, came toward me, and said "I'm glad you got it out because I wanted some too, but... its.. ice cream... for BREAKFAST! But it IS that good.."
We finished breakfast with some
44 North Coffee
... the way Sunday mornings should be :D
Toodles.
J&H
p.s. the jam on top is homemade rhubarb jam... the same that was inside the poptarts from my first post!