Though our home is often times centered around the kitchen, sometimes it's nice just to get out and actually
see
the wonderful place we live. Even though people sometimes criticize
Hoboken
for being a 'bubble', full of yuppies that took over the city, I still love,
LOVE,
living here. Hoboken in itself has many things to offer, but we're also at the "center of the world", as many New York City dwellers proclaim.
Most of you have experienced this awful heat wave going through the US. For those of you with central air, it simply means you stay inside more and your electric bill gets high. For those of us with window units, it often means suffering
inside
as well as out. Mr. P and I have set some priorities for how we spend our loot, and getting another AC, or just a better one than the one that came with our rental apartment, is not on the list, not this year anyways. We have too many weddings, too many people to see, and now that we're halfway through this dreadfully hot summer, we can certainly last the rest. For us though, 'suffering' doesn't just mean 'suffering' through the heat and having a hot apartment even when the AC is on, it means 'suffering' in the kitchen. With an ancient (and I mean
ancient
) gas range, turning it on is literally like turning on a fireplace, maybe worse. Needless to say, we have limited its use when the temperatures are above 85, and that's been everyday as long as I can think back. We have gotten creative with our cuisine, utilizing the crock pot, eating salads and sandwiches, and making food that lasts when we actually
do
use the stove or oven.
Now that we have more time on our hands without cooking so much, we've had the chance to get out and see this wonderful place we live. We recently went to the beach, in
Avon-by -the-Sea, NJ
. I'm sure most of you have your own judgements about the "Jersey Shore", based on the
MTV show
, however "going down the shore" isn't just for 20-something partiers who want to exploit New Jersey's best assets. People of all ages go, and there are beaches for all types of people. Avon-by-the-Sea is more of a family-friendly beach, with clean sand, surfers, a boardwalk, children making sandcastles, and plenty of waves for swimming and my favorite, body-surfing!
Before our trip, we packed food to eat for the day. Considering we left at 6:30am to beat the traffic, we had to pack breakfast
and
lunch. Our cooler was filled with fresh fruit, wraps, and LOTS of water. Since Mr. P is so awesome, he pulled homemade pastrami out of the freezer to make sandwich wraps with pastrami, leftover deli meat, arugula salad mix, cheddar cheese, horseradish sauce, and tortillas (whole wheat wraps for me :P)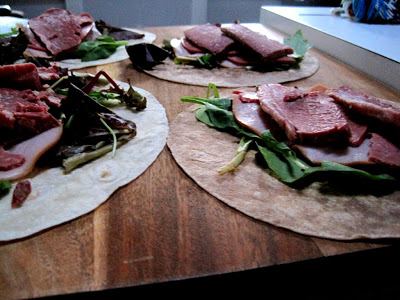 With the sauce in the middle, away from the wrap, we folded them up like a burrito and wrapped in tin foil. This way nothing would spill out, and the wraps wouldn't get soggy from the sauce.
When we got to the beach (around 7:45am), there was nobody there (except the surfers of course, who catch the morning waves before the beach is overcrowded). It was so peaceful, and nice to be able to relax with the light breeze, sun, and the sound of the crashing waves. Without anyone else around us, the sounds of the waves and wind sounded like one of those alarm clocks with "nature" sounds to wake you up! Getting up that early was
so
worth it.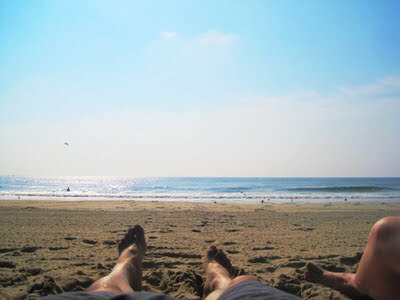 Soon though, the beach became crowded, and we decided to go back to the car, grab our bikes (thankfully our bikes are foldable, so they fit in my little hatchback Yaris!), and ride around the little beach towns (well, sort of, after 9am you have to pay to get on the beach, and we got 'caught' without paying, so Mr. Police Man told us we had to pay or leave, so we left since we had already been there for 3 hours). At this time though, it was so crowded and so hot, we were almost ready to leave anyways, so the bikes were a good option!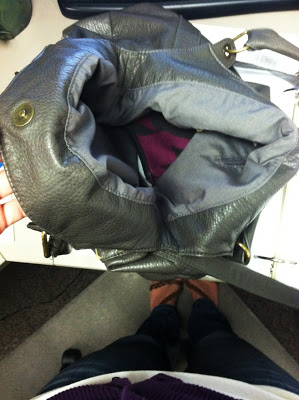 We strolled up and down Ocean Ave., grabbed some ice cream cones, and were back in Hoboken by 1:30pm! Not too bad considering usually at that hour on a Saturday we are still in our PJ's, drinking coffee, and watching reruns of
Holmes on Homes
or other shows on HGTV!
So, cheers to getting out of the kitchen for once, and truly enjoying the outdoors! ....it helps when there's a beach an hour away ;)
Toodles.
J&H