Ok ok... Shepherd's Pie is definitely not your typical summer meal, but when asked "What do you want to make?" Mr P said with no hesitation "Shepherds Pie!!" Though it made our apartment sooo hot, it was totally worth the heat because it was just so comforting and delicious.
If you've never heard of it, shepherd's pie is one of the easiest and simplest forms of 'meat and potatoes' you can make. The main ingredients include ground beef, vegetables, and mashed potatoes, so basically any child or picking-eating adult should like it! ...and should the rest of us put-any-food-in-front-of-us-and-we'll-eat-it kind of people. You can go as homemade or as packaged food as you like with this meal. We have made it with homemade mashed potatoes, fresh cut veggies, and homemade gravy before, and we've made it with Hungry Jack instant mashed potatoes, frozen veggies, and jarred gravy. We have learned that the best tastes and consistencies come from homemade mashed potatoes, frozen veggies, and just adding flour to make a gravy.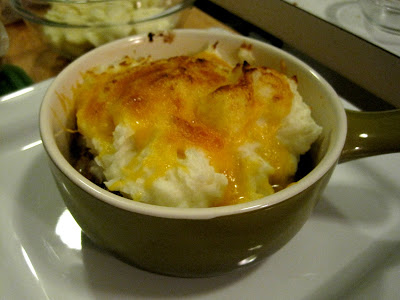 (makes 12 servings)
Ground Beef Mixture:
4 lb. ground beef (93/7)
1/2 large onion, diced
4 cloves garlic, chopped
2 tbls. olive oil
2 cups frozen mixed vegetables (more or less if you would like)
2 tbls. flour (or more if needed)
2 tsp salt
1 tsp freshly ground black pepper
salt, pepper, and sugar
Heat oil in dutch oven or large pan. Add chopped garlic, stir, and cook until fragrant (about 1 minute). Add diced onion, stir, and cook until translucent (about 3-4 minutes depending on size of pieces). Add beef, 2 tsp salt, and 1 tsp pepper, and cook until beef is no longer pink. Add flour and stir, this should turn it into a gravy-like consistency. Add more flour if it is too runny.
Mashed Potatoes:
5 lbs russet potatoes, peeled and diced into 1/2" cubes
1/2-3/4 cup milk
3/4 stick butter
salt
Put diced potatoes in large pot and fill pot with water. Bring potatoes to a boil, and boil until potatoes are thoroughly cooked (stab one with a fork, break apart, then taste if desired. Consistency should be like a baked potato). Drain water, add milk and butter. Beat with a hand mixer or smash with a potato masher until no big chunks of potato are left. Season with salt to taste (less is needed if you use salted butter).
Garnish:
Shredded cheddar cheese
Put it together:
Turn broiler on high. Use ramekins or glass baking pan, which ever you have or prefer. Fill ramekin or baking dish with ground beef mixture to slightly less than 1/2 full. Fill the rest with mashed potatoes until slightly less than full. Top with shredded cheddar and put under broiler until cheese is melted and turning a golden brown.
Serve and enjoy! .....or keep in mind for future wintery meals :D
Toodles.
J&H