As many of you well know, Mr P and I have decided to move to a new home in Jersey City. We have mentioned that this is a great 'opportunity' for us, because we get to try our hands at doing some much-needed renovations in exchange for getting cheaper rent. We could be in over our heads, or we could have a gorgeous apartment by the time we are finished. We will find out in the next month or so I suppose!
Before
: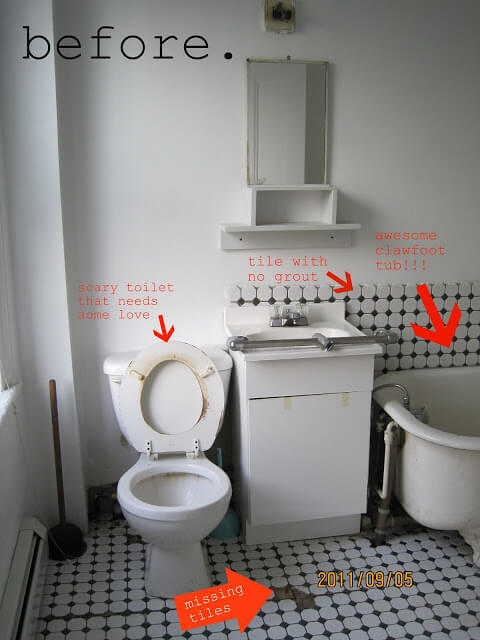 bathroom before
kitchen before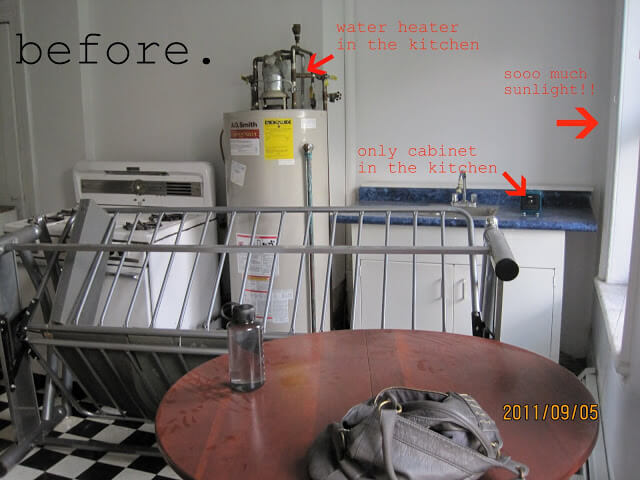 kitchen before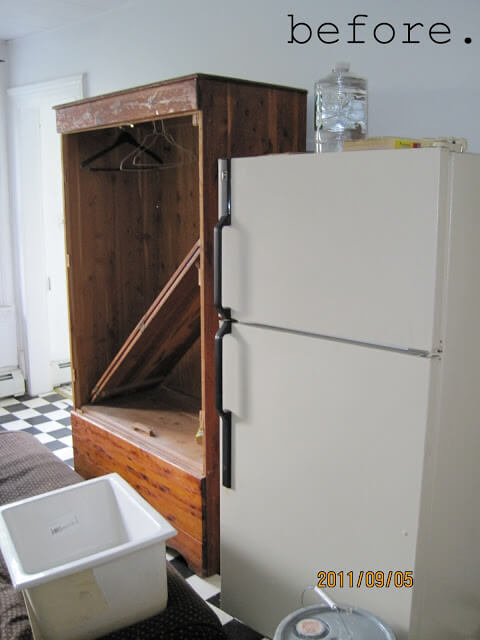 kitchen before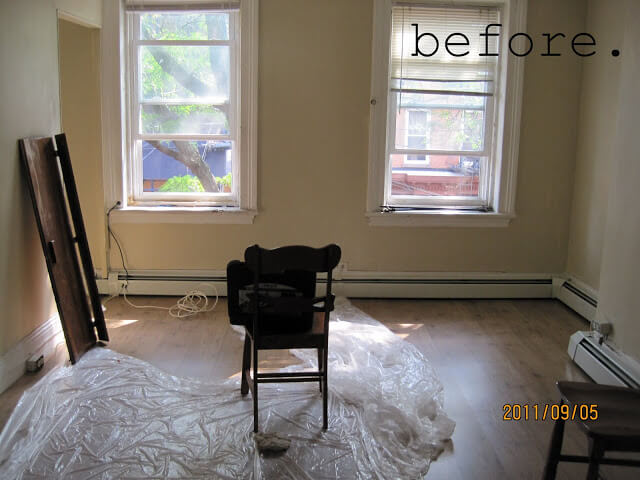 living room before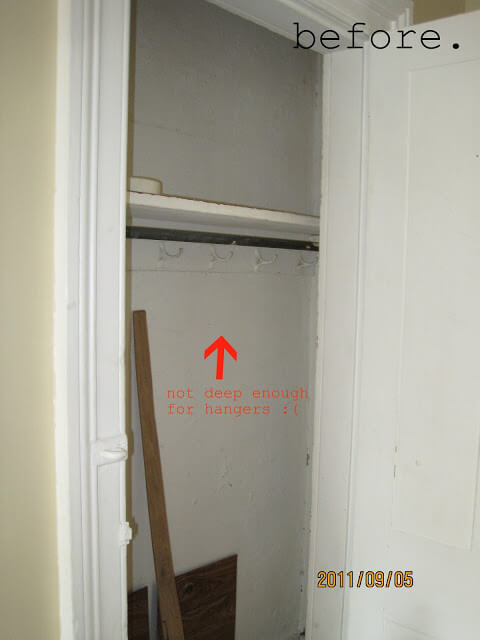 closet before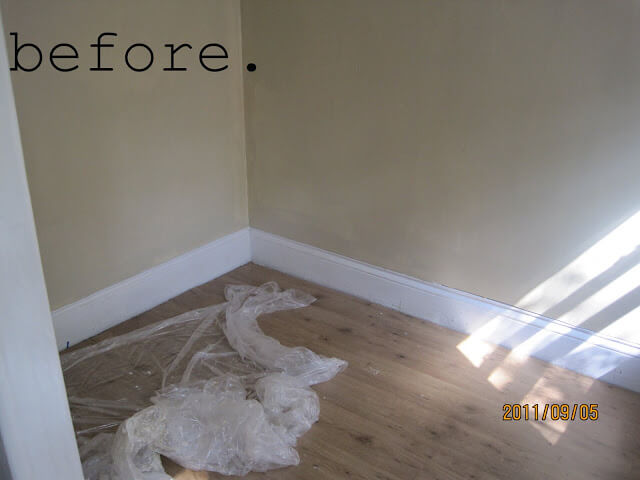 bedroom before
Today we began this journey by starting with the bedroom and bathroom. We figure if these are the
only
things we get done before we
have
to move out of our current place, we can survive. The bedroom and living room have new laminate hardwood floors that had an improper installation. Luckily, this is a good thing! We don't have to buy the flooring and we don't have to cut it to shape either!
The floors were laid over top of existing carpet, so first we had to take out the floors, and rip out the carpet and carpet padding. We leveled the really uneven areas of the original hardwood flooring with a patch-and-level compound, laid the proper underlayment, and re-laid the laminate wood. Luckily we were able to do this all in one day! Now all we need to do with the flooring is install the new trim.
We also painted the bedroom. Though the walls had recently been painted, we were eager to have grey walls. Our current bedroom has tan walls, and it makes everything seem
soooo
brown and tan (i.e. booooring). For some reason grey is more refreshing and calm. Our bed linens are white, and our throw pillow colors don't include neutrals, so everything in the bedroom is compatible with at least any neutral-colored wall.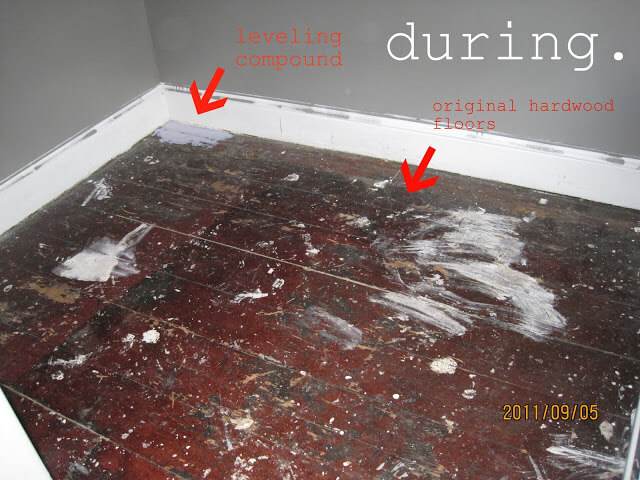 bedroom during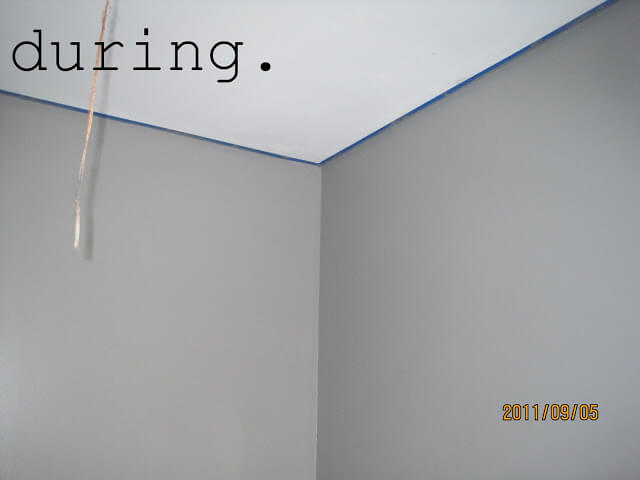 bedroom during
Between me going to Home Depot while Mr P waited on the utility man to come and hook up the electric and gas and waiting on the leveling compound to dry, we began scraping up the tiles in the bathroom. We originally thought we would keep the existing tiles and just deal with what was there, because what we had remembered didn't seem that bad. There were a few tiles MIA, but we could fill them in as needed, even if they didn't match. However, when we got to the apartment today, we realized that there was no grout in the tiles! I'm not sure if this was intentional, how long the tiles had been there, or if it was just a half-finished job. However, the tiles are small, and grouting tiles that we really didn't prefer seemed like just as much work as ripping them out. So, we started ripping them out! Boy is that
hard
! We didn't really know what we had gotten ourselves into when we started, because the tiles came up pretty easily, but I suppose those luckily chances to pull up 20 teeny tiles at once are few and far between. We ended up chiseling out most of the tiles one-by-one. Possibly we will get better tools to do the rest, but today we started from scratch, not expecting to start the tiles, so we just dealt with it.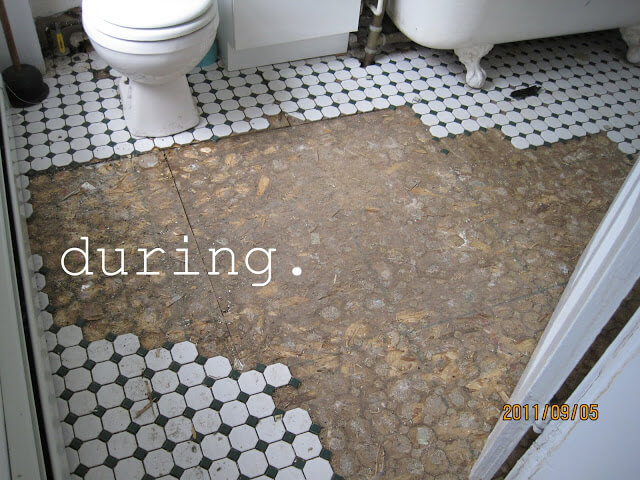 bathroom during
After working hard all day, we decided we wanted to get as much as possible finished during the week. It's a good thing we have lots of
shepherd's pie
and
Benny's pizza
left over from the weekend to hold us over until we get the time to cook again!
Stay tuned for more renovation craziness... This is our first attempt at many of the renovations, so expert advice is gladly welcomed :D
Toodles.
J&H