I think I am the only one who doesn't have the Christmas tree up. Tonight's mission is to change that! Our place is so small, that putting up just the teeny 3-foot-tall tree and lighting Christmas-y candles more than festivify the apartment (probably a made up word, but you get my point). I think I've held off because I'm too much enjoying the fact that I can relax with no worries of getting things done before we go away for the weekend, because we're
NOT
going away for the weekend for a whole
THREE WEEKENDS STRAIGHT
! ...well including last weekend.
I
should
be inspired by all of the fun Christmas tree photos posted on facebook, but it wasn't until I saw this photo from my very own mother that I decided
tonight is the night!
No more procrastinating!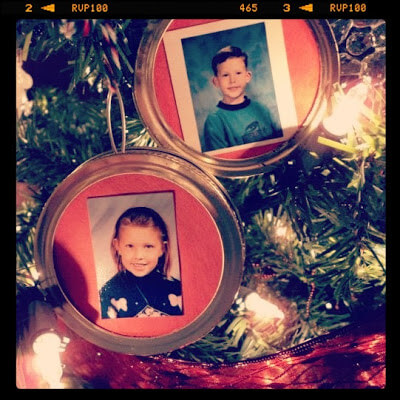 1st grade. Mrs. Kalkruth. Myself and my brother. Does this look familiar to you too?? How many of you have these ornaments on your tree too (or your parents tree)?
Thanks, Mom, for that extra bit of inspiration for the day!
Toodles.
J&H