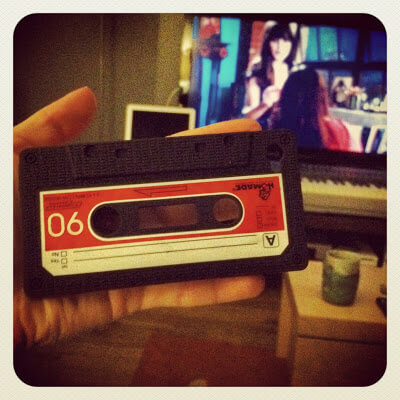 wtf can you do with a
cassette
these days?
the answer: no.
that's
my new iphone case
.
(and that's new girl in the background, getting caught up on the last few episodes via hulu)
i was nice to a stranger at the laundromat.
i smiled and said excuse me.
then that large hispanic man with a greasy ponytail and sweatpants said:
"here, let me do you a favor"
he handed me a cassette-shaped iphone case.
"thank you! are you sure?"
"girl, you can't go around with a naked iphone, are you crazy??"
"i know! i dropped it so many times i can't believe i didn't break it already, but really are you sure? thanks so much!"
"yeah, i tried selling them for $5 a pop and i already got my money's worth and i just wanna get rid of them."
so... my charm and smile saved me $35!!
and thanks again, mr hispanic man with a ponytail wearing sweatpants!!
toodles.