best way to switch up your standard pork chop or chicken breast?
....maple and mustard sauce!!
WHOLE GRAIN mustard, that is.
last night we baked bone-in chicken breasts (only $1.49/pound!!) rubbed in chopped fresh rosemary, thyme, olive oil, and salt, then topped with the maple-mustard sauce after slicing and serving the chicken.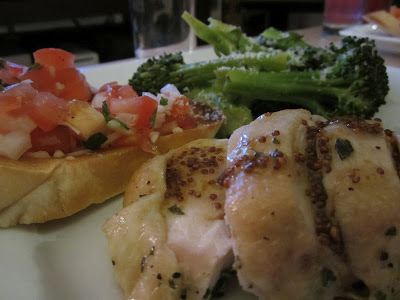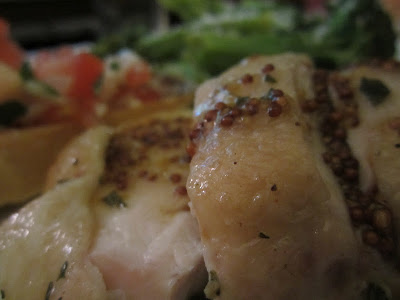 it's sweet, it's a tiny-bit tangy (not like regular mustard though, since it's whole grain and basically just seeds and juice).
Maple-Mustard Sauce/Glaze
2 parts real maple syrup
1 part whole-grain mustard
Glaze: Mix together and brush or drizzle on baked pork chops or baked chicken breast about 10 minutes before finished baking
Sauce: Mix together and drizzle over served meat (and, if you're like me, keep some nearby in a small dish to dip each bite into the sauce!)
what's your favorite pork chop or chicken breast topping? i'd love to hear from you!
toodles.