last weekend mr p and i spent a good half a day making a huge batch of ravioli and tortellini.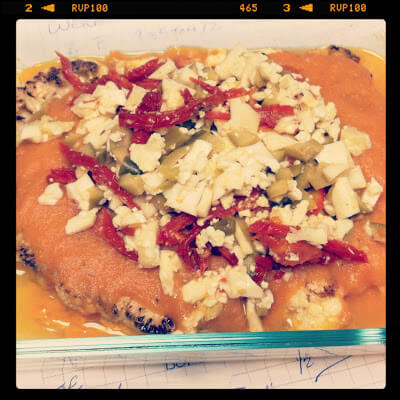 now, i realize that making homemade pasta might not be your thing, though treating yourself to
FRESH
pasta
SHOULD BE!
buitoni
is in practically every grocer's refrigerator, and other places like whole foods and trader joe's have a larger selection.
sure, fresh pasta is more expensive, but it's well worth the treat!
(making it at home can be even cheaper than dried box pasta though!)
we have practically ran our pantry dry being on the run so much lately (and not wanting to walk 3 blocks to shoprite). we were OUT of canned tomatoes!! that NEVER happens! mr p stocks up on it, even on days when we have a ton of groceries to carry home (he's manly though, he has muscles, he can carry them! :P)
but luckily, we had FRESH tomatoes! AND watercress! AND garlic!
what seemed like a hodgepodge of a sauce at first turned out surprisingly delicious!
here goes!
Tomato and Watercress Pasta
(serves 2)
2 plum tomatoes, diced
1 bunch (1 lb?) watercress
3 garlic cloves, sliced
1 tbsp olive oil
1 good pinch of salt (or more to taste, especially if you opt to not use butter)
1 good pinch of red chili flakes
1 tbsp butter (optional, gives a richer flavor)
freshly grated parmesan (optional, gives a richer flavor)
cook any fresh pasta according to package instructions.
(our ravioli has a lemon zest, spinach, ricotta filling, though spinach fettuccini would be great too!)
heat oil over medium heat in large pan. add garlic and saute until beginning to brown. add diced tomatoes, saute until tomatoes begin to break down (about 5 minutes). add butter and saute until melted. add salt, red chili flakes, then watercress. saute until watercress is wilted, slowly folding the watercress into the mixture. add fresh pasta, and fold into tomato watercress mixture. serve, topped with freshly grated parmesan.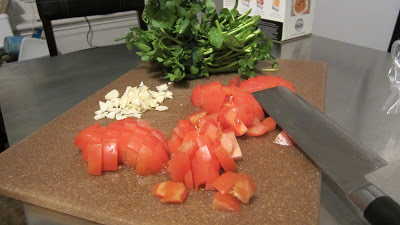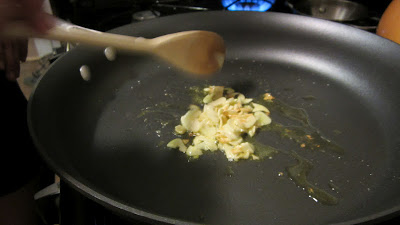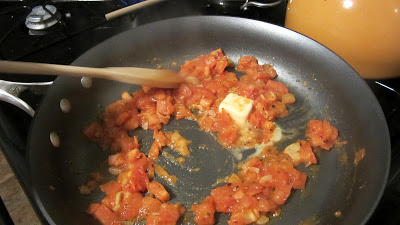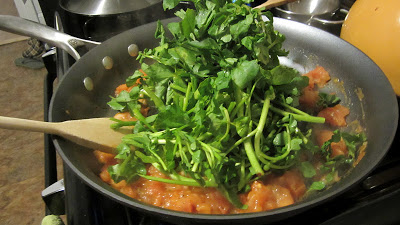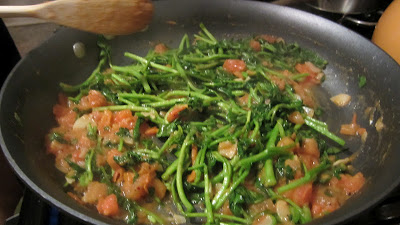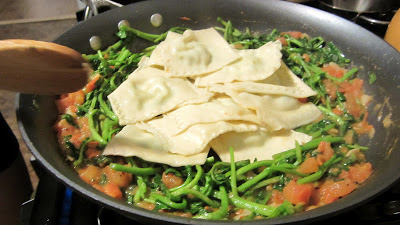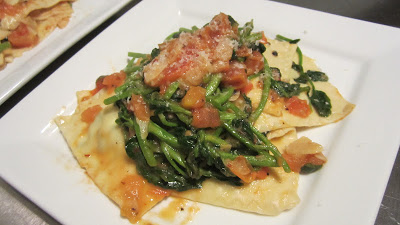 easy peasy, right? right.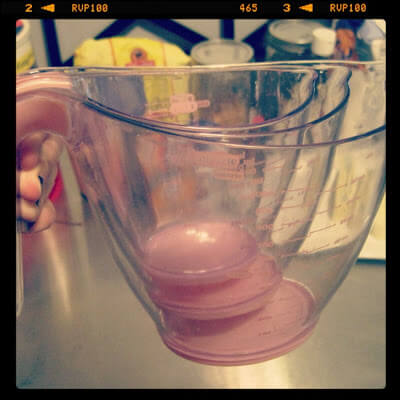 the only real way to screw up this recipe is to burn while sauteing. keep the pan hot enough that you always hear a good sizzle, but there should always be a little bit of liquid in the pan, whether it's the oil in the beginning, juices released from the tomatoes, melted butter, or water/juices from the watercress. if you hear sizzling, but don't see any more liquid, your pan is TOO hot! you stuff is going to burn!
if you can't get your hands on fresh watercress (or if it's crazy expensive, we are lucky enough to have a bodega around the corner that sells it for super cheap!) try another leafy green like spinach or swiss chard. watercress is nice, though, because it has leafy green leaves that wilt down to nothing like spinach, but it still has the stem that keep its shape a bit for some added texture.
hope you enjoy!
stay tuned for a post about the ravioli-making within the next few days!
it's not as hard as it looks, especially if you have a pasta-roller (even a cheap one!)