remember
last friday
when i surprised mr p with dinner when i came home early from denver?
it's not often that it's
ME
who makes dinner all by myself, but this one is so easy and delicious and
HEALTHY
, that i make it fairly often. my mom cut it the recipe out of
fitness magazine
my sophomore year in college
(i think?)
and sent the page to me. i've been making it at least a few times a year ever since.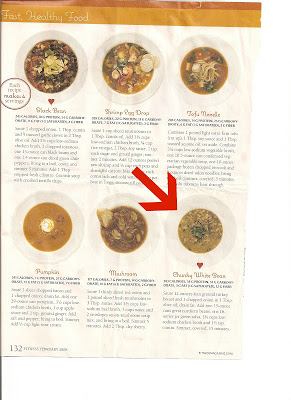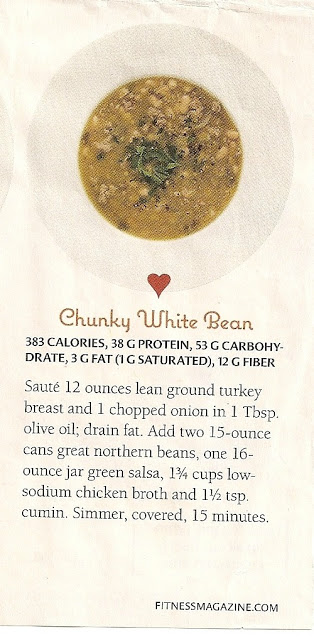 mr p and i have successfully been cleaning out our fridge by using up all the meat we have shoved in there
(and have vowed not to buy another meat product until we use at least half.. well.. except for tuna in the can... the best tuna salad comes from a can in our minds!!)
we had enough turkey for the soup, had the broth, had the spices, had the green salsa, and only needed the onions and beans. talk about some cheap meals!!
so, here goes. i hope you enjoy it as much as we do! make sure to read the notes at the end for our tips on changing up the soup so it can be healthier, or just to turn it into a completely different meal than just soup.
chunky white bean turkey soup
12 oz lean ground turkey
(if you use 93/7 or better you won't need to drain the fat)
1 chopped onion
1 tbsp olive oil
2 15-oz cans great northern beans
1 16-oz jar green salsa
(goya is best for a bit more spice... we used to use ortega before we lived in a place with hispanic groceries around the corner and multiple hispanic food isles at the big box grocery)
1 3/4 cups low-sodium chicken broth
1 1/2 tsp cumin
(feel free to double or triple this after tasting... i add WAY more than the listed amount because i LOVE this spice!)
(forgot the cumin in the pic, and used veggie broth instead of chicken because i didn't want to buy chicken broth... BAD idea!! will never do that again. ONLY use chicken broth!)
heat the olive oil over medium heat in the pot you plan to make the add the onions and saute for 2-3 minutes. add the turkey and saute until all turkey is cooked. add the remaining ingredients and bring to a simmer. simmer for a minimum of 15 minutes
(longer if desired).
that's it!
now for our variations:
1. immediately after serving,
toss in some fresh spinach
and fold in the spinach. it will wilt enough so that it's a nice texture, without being overly mushy. it's nice to add in, too, because it doesn't really add any flavor, just TONS of nutrients :D
2.
serve over brown rice or quinoa
. scoop up more "chunks" than broth, and serve over the brown rice or quinoa for more of a stew instead of a soup
(or just keep the broth in there and it will end up just like you added the rice or quinoa)
(or add spinach AND quinoa like we did!)
(final product friday night)
(final product friday night)
3. bake 2 corn tortillas so they turn crispy, top with black beans, top beans with "chunks" from the soup, top with fried egg, top with queso fresco and serve with 2 lime wedges.
insta-huevos-rancheros.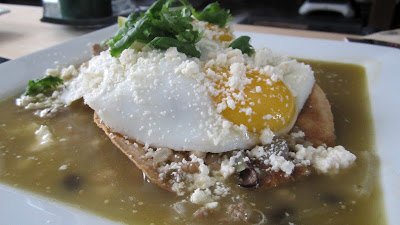 (like we did saturday AND sunday mornings)
i hope you enjoy this recipe as much as we do! it's a quick, healthy meal to make, plus you can make a lot of it and eat it different ways so it's not so mundane eating the "same" thing for a few days :D
cheers to a great week ahead!
toodles.