thanksgiving is a time to be thankful for all of the wonderful things in your life.
yet, most of us simply spend a day eating, drinking, watching THE parade, and possibly watching or playing some football.... all with family.


for us, and many 20-somethings-without-children
(and i suppose some WITH the kiddos

),
thanksgiving is
ALWAYS
a time for travel, especially us lucky ducks who decided to move hundreds of miles away, meaning holidays include a brutal amount of hours in the car
(thanks, ke$ha and t-swizzle for making those trips a tiny bit more tolerable)
all that is great, but... what about your friends?
normally, we all just leave each other in the dust as we travel "back home" to our families.
this year, however, was different! we were able to celebrate a
"friendsgiving"
last weekend with some great people in
philly
that we have had the opportunity to become friends with. mr p and i have recently made friends through many different avenues, so they aren't all in the same group. but it was still nice to get together and eat great food
(and drink great drinks.. hellllllo
Wells Banana Bread Beer
)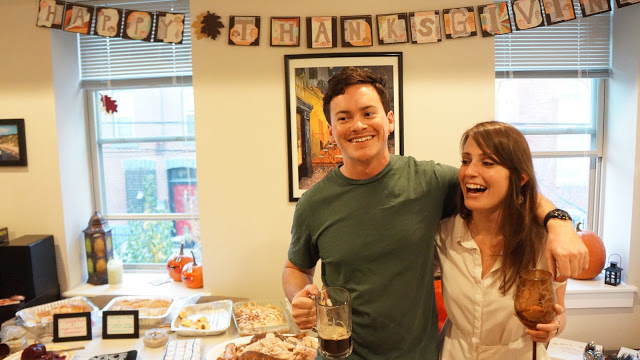 our wonderful hosts, matt and jenna, made the turkey, and the rest of us brought the rest! by the time the list came to us, most of the standards were taken. sweet potatoes, stuffing, green bean cassarole, cranberry sauce, pumpkin pie, collard greens... all taken. mr p and i decided to go for some not-so-traditional treats and hoped they would be a hit. after much hesitation, mr p's chicken liver pate was a HUGE hit! so was the mushroom pate, maybe even more than the chicken liver pate.
don't knock it until you try it
(i couldn't even get a picture of it before someone snagged a scoop!!)
.
we
mr p followed
this recipe
to a T
(with the exception of salt and pepper to taste),
and the mushroom
(aka vegan)
pate recipe will be coming shortly, stay tuned :)
in the meantime, check out the rest of the pictures from our first ever
friendsgiving :)
ALL
....
AND
the collard greens.
AND
the stuffing.
AND
the pies.
our other lovebirds. aren't they cute?
what did i learn from this weekend?
1. 2 thanksgiving weekends are better than 1
2. i NEEED a kitty
(wait, i already knew that, playing with edie james just cemented that thought into my brain)
3. chicken liver pate isn't scary... it's DELICIOUS!!
4. wells banana bread beer is heaven. definitely tastes like banana bread, but isn't sweet. perfect beer combo :)
we have thanksgiving
numero dos
this weekend in ohio... can't wait to see our families!
what are your plans!?
cheers!