with all the
excitement
around here lately, hung and i have been slacking in the kitchen. it's not that we haven't been cooking, it's just that we haven't been cooking anything new or, well, presentable. i mean, ramen noodles with egg and spinach isn't exactly rocket science
(but gosh does it taste good!).
a rotisserie chicken sammich? come on, guys, you don't need instructions on that….
but now that things have calmed down a bit, we
(hung)
have been stepping things up. the last visitors left on monday, and we took advantage of our day off of work to put some thought into dinner. a trip to the new-to-us asian grocery store on route 440 in
jersey city
called "
asian food
"
(clever)
led us to make a vietnamese dish called "ca kho to," which is essentially clay pot fish or caramelized fish. salmon steaks are cooked in a caramel-y sauce with all the best flavors: sweet, salty, spicy. the dish is quick and easy, the hardest part is pulling the ingredients together if you don't normally cook asian food, notedly fish sauce and black bean chili sauce. both can be found at nearly any asian grocery store or online
(see here and here)
. though there are so many different ways to achieve the key flavors for clay pot fish, we've been experimenting a lot with the black bean chili sauce, which isn't exactly a traditional ingredient for vietnamese food. however, we find that it's the perfect punch of flavor for SO many asian dishes, and like the depth it adds to clay pot salmon. this dish is served with white rice and steamed vegetables, no seasoning needed because the best flavor comes from the sauce from the salmon! we liked this so much that we ate it twice this week. are you hungry yet? lets go.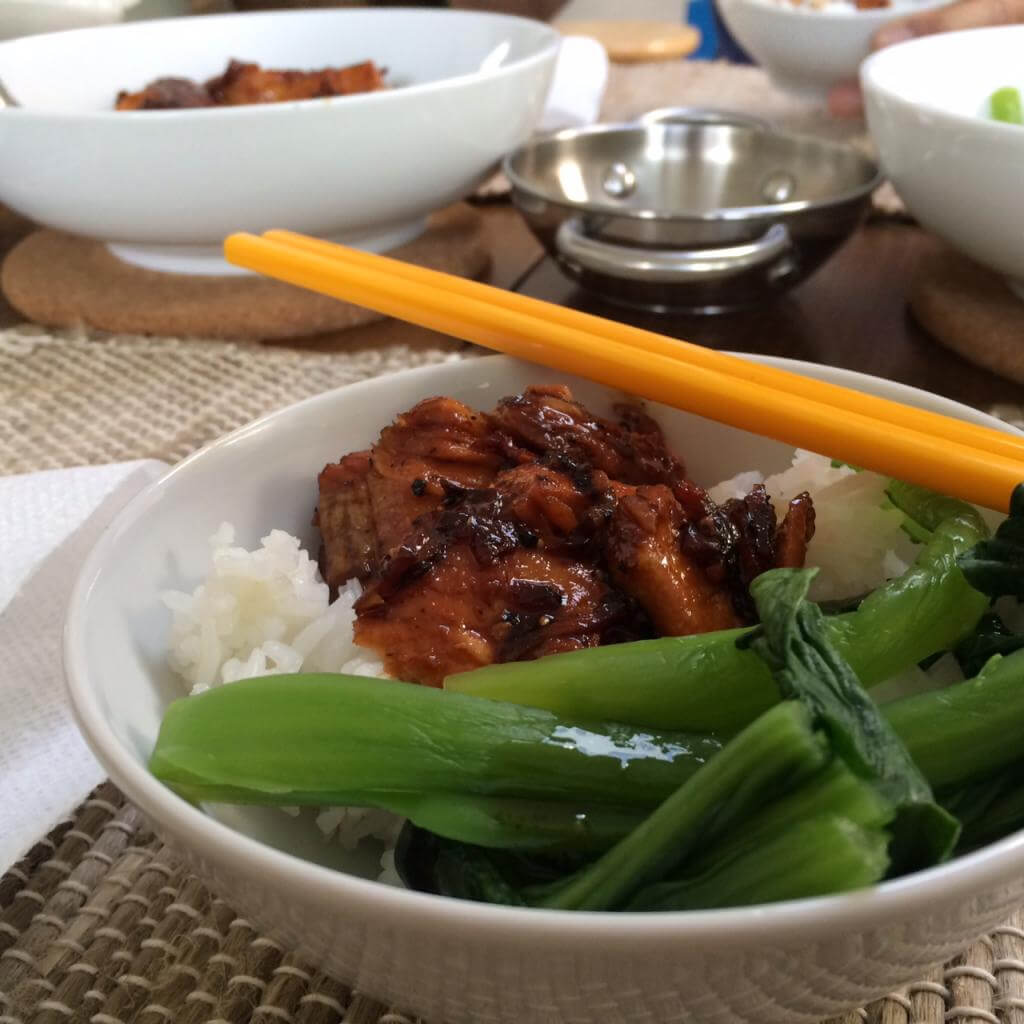 prep time: 10 minutes
cook time: 30 minutes
serves: 4 (but we liked it so much we finished a 1 lb steak between the two of us! oops)
ingredients:
1/2 cup white sugar
1/4 cup fish sauce
2 tbsp soy sauce
1 tbsp black bean chili sauce
1 tbsp freshly cracked black pepper
1 inch piece of ginger, julienned
1 medium onion, halved and sliced
1/4 cup water
1 pound (approx.) salmon steak
instructions:
debone the salmon steak. if the steak still has the large backbone, you can leave that bone in for cooking, but make sure to pick out all the tiny bones that will be sticking out of the steak. heat a heavy bottomed pan or dutch oven to medium low heat. pour sugar into pan. after sugar starts to caramelize, stir sugar with a whisk. turn off heat. after sugar caramelizes to a dark brown color, add fish sauce. continue stirring with a whisk until bubbles reduce. add black pepper, ginger, soy sauce, black bean chili sauce, and water. turn heat back up to medium low, and bring the pan to a simmer. add salmon, then the onions. put a lid on the pan, turn the heat to low, and continue cooking for 12 minutes. take off lid, flip the salmon steak, stir the onions into the sauce, and continue cooking for another 10 minutes with the lid off, spooning the sauce over the salmon a few times within the 10 minutes.

serve with steamed greens (chinese broccoli, bok choy, or green beans are good choices) and white rice. we served family style with the fish and greens in the middle of the table and a small bowl of rice for each of us. enjoy!
cheers.
jenn

p.s. beware of the fish sauce in this recipe, your kitchen will smell PRETTY DARN funky when you first put in the fish sauce into the hot pan full of sugar. so don't say i didn't warn you ;) it doesn't last long though, thank goodness.