Wait, it's already Thursday?? Where did the week go??
At least we are still moving forward with the renovations, even though it feels like we haven't done much this week. Most of our time this week has been spent moving the rest of our things from Hoboken to Jersey City. Though we only take 1 carload per day, it takes a good hour and a half at least just to pack up a carload, take it to Jersey City, unload the car, and put it in a place in the apartment where it won't be in the way (the "won't be in the way" part is getting tough the more things we bring!!) Last night we brought
all
of the hanging clothes. I've gotten pretty good at this part considering how many times I've moved. I brought my rubberband ball home from work (that I worked
so hard
to get that big!!) and unraveled it to rubberband bunches of hangers together. This is my easy way of moving hanging clothes. The first time I moved I took them all off the hanger, folded them, put them in a box, then put all the hangers in a messy awkward mess in a trash bag, only to hang up wrinkly clothes again once I got to the new place. Bundling the hanging clothes together by rubberbanding the hanger tops saves
sooo
much time! It's a little riskier though, as some clothes may fall off the hanger. Last night we only had one casualty, a cotton shirt of mine... Luckily it wasn't one of Mr P's expensive suits!!
As with all of the plumbing we had to do with this renovation, we ran into a few bumps while trying to connect the plumbing for the kitchen sink. After making a few trips to our friend Danny at Home Depot, we finally have a working sink!
Mr P has been taking good care of his butcher block countertops, oiling them multiple times a day like Ikea said. I always had this notion that butcher block countertops were expensive, and maybe really good ones are, but at Ikea, it's the
cheapest
kind of countertop!! Mr P loooooves this kind too, so it was win-win. He says he will take care of it, oiling it when he's supposed to, sanding out any scratches, etc. It's the prefect compliment to our otherwise drab cabinets. Most Ikea cabinets are the same, just with different finishes on them. Just changing the color or type of facing on the cabients can double, triple, or
quadruple
the price! ....even though they are all the same particle board cabinets!! Insane, right?? THAT'S why we stuck to white. $46 for each of the smaller 12" cabinets, and $56 for the sink cabinet. Not bad!
We have been trying to give things a "place" in the new apartment, but it's hard putting things away when we don't have much space to put it all. We have a billion kitchen gadgets and tools, but we're not even going to start unpacking that stuff until we get shelving installed, the new stove delivered, and the new stainless steel island comes in the mail! This coming weekend, our friend Zack is coming to build a bed "loft" for us. Yes, just like college. Though our ceilings aren't super high, we can still raise our bed high enough to put a dresser underneath it and have hanging storage underneath too. This will free up
a lot
of space. I know it's not ideal to have the top of the bed ~4' from the ceiling, but we're gonna have to deal!
Last night we began ripping up the kitchen floors and installing the new floors. We got
really
lucky having nice plywood underneath the ugly black and white diner vinyl (seems like a cool idea, but really feels like you are walking into a funhouse when you see it day after day), so we only had to rip up the vinyl sheeting, clean up the dirt and dust, and install the new peel-and-stick tiles. Simple as that! I told Mr P that laying these tiles are my favorite part of the renovation, because you can
SEE
such a big difference with not a lot of work. That's why I don't really like doing the plumbing, or other hidden stuff, because it takes so much effort, and even though it's absolutely necessary, there's not much for the eye to see.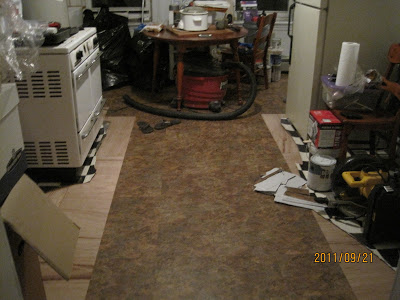 Though we can't use the stove, and we don't have many kitchen utensils at hand, we still were able to make our first real meal at the new place! Perfect timing for a good, hearty, veggie and chicken soup. So simple to make, nothing to cook, just throw it all in the crock pot! I cut up chicken breasts, carrots, turnips, potatoes, onions, celery, and cabbage and put it in the pot. I put in 1 quart of chicken broth, then added enough water to almost cover everything in the pot. Mr P added spices (oregano, bay leaves, etc.), we set it to cook for 10 hours, and went to bed! Yum! Delicious soup ready in the morning! Though, the potatoes and carrots were stilla bit hard, so I took some for lunch and set it for
another
10 hours! That was a little over the top, but it was sooo good last night for dinner!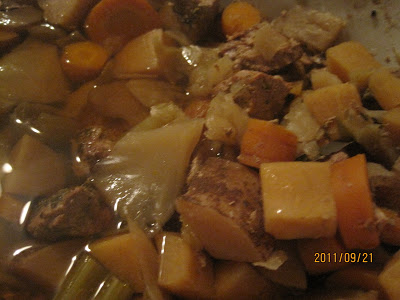 Hopefully we can lay the rest of the tile tonight to have the kitchen all ready for the stove to be delivered this Saturday and the ugly old stove to get
outta here!!
Toodles.
J&H