Having pizza, seeing people eating pizza, taking a box home on their way home, eating a slice on their way home, sitting down at a "nice" pizza restaurant... pizza is sort of in your face all... the... time... living around here. Its almost like college, except there are
better
different choices than Papa John's or Domino's. Hoboken is
flooded
with pizza places, and for some reason, more and more seem to be opening up. I just looked on hobokenmenus.com and counted 27 MENUS!! And those are just the ones that had "pizza" or "pizzeria" in their name (or I know they are known for pizza). There are certainly more Italian restaurants and other bars that serve pizza as well (...and keep in mind, Hoboken is only 1 square mile)
Mr P and I don't eat pizza
that
often, but when we do, we go to
Benny's
.... sort of like when we think of Ke$ha, we think of Blow... no other song. We've had such bad experiences with pizza around here, we have sort of just stuck to the same place for such a long time. I guess since there are so many pizza places, anyone thinks they can have good pizza, and its just not the case.
Last night Mr P picked up two slices from a new pizza place on his way home, called
Basile's
. Expecting it to be average, I was pleasantly surprised!! My slice had a crispy crust, and the parmesan on top was fresh. The crust had cornmeal on the bottom... my
favorite
!! It adds that little bit of extra texture that flour bottoms don't have.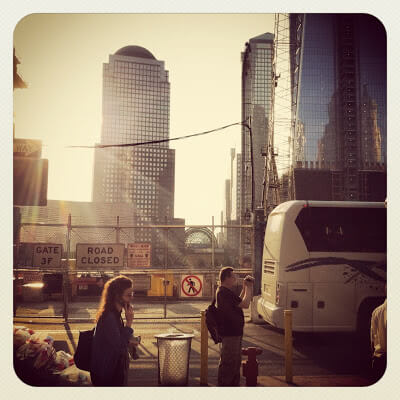 We certainly ate it quickly, mostly because we were trying to get to the new apartment as fast as we could, but also because it was so delicious!
Can you tell which one was mine with breaded chicken, fresh tomatoes, basil, and minimal cheese, and which one was Mr P's with sausage, pepperoni, and lots of cheese???
Toodles.
J&H