Yes, "noodles", not "pasta". Mr P clarified this to me yesterday. He says he works with an older lady who is
very
Italian and
very
New York, and she (in her very New Yawk accent) says that you "
NEVA
call pasta "noodles". Asians eat "noodles" and Italians eat "pasta". Well then, we ate "noodles", because they were the Chinese egg noodles that have the dried shrimp powder in them. I know, it sounds weird, but until you just try them assume they are awesome!
As you know, this is our week of pulled pork. Remember, we have that
huge bowl of pulled pork
we need to eat? It won't be hard though, considering how much each of us like it! Last night we threw the pork in a batch of noodles with garlic, lemon, and spinach. Super simple, super cheap, and super delicious! Here goes: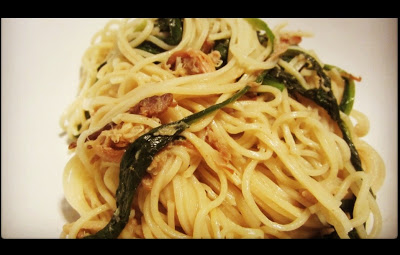 Lemony Chinese Egg Noodles with Spinach and Pulled Pork
1 package of dried Shrimp-Flavored Chinese Egg Noodles
2 cups of pulled pork (
see recipe here
)
3 garlic cloves, thinly sliced
2 tbsp olive oil
juice of 3 lemons (or more to taste)
1 bunch of fresh spinach
salt and pepper to taste
Bring large pot of water to a boil and cook noodles according to package instructions (about 8-10 minutes). Heat oil in wok over medium high heat. Add garlic and cook until fragrant (about 1 minute). Add spinach, toss to coat with oil and garlic, then cover with a lid (can be any lid, doesn't have to fit the wok, just has to cover most of the spinach) and cook until spinach is mostly wilted (about 4 minutes, but keep your eye on it!). Add pulled pork, toss. Drain noodles, add them to the wok, and toss. Squeeze in lemon juice, taste, add salt and pepper (and possibly more lemons) to taste. Serve.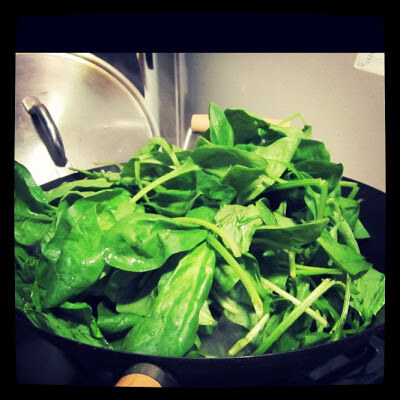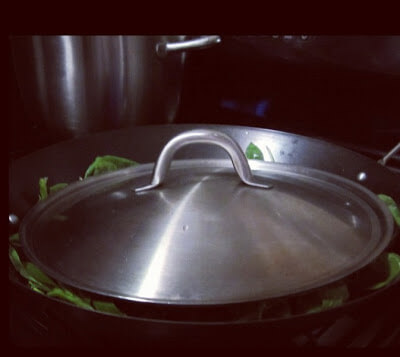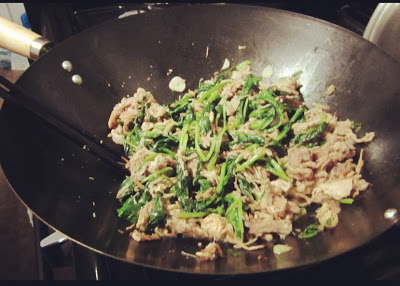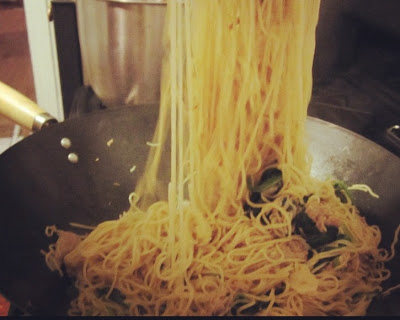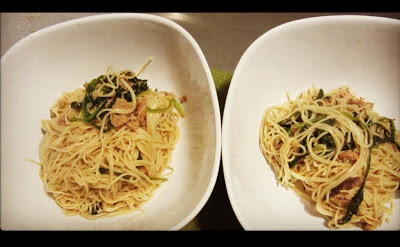 Just to show you how cheap this meal can be, here is a quick cost breakdown:
1 package Chinese Egg Noodles: $1.29 (at Asian grocery)
2 cups of pulled pork (about 1 lb): $1.00 (8 lb shoulder for $0.99/lb)
3 garlic cloves: $0.10 (1 head was about $0.50)
2 tbsp olive oil: $0.21 ($10 for about 48oz or 96 tbsp)
1 bunch of spinach: $1.00 (at small bodega)
3 lemons: $1.00 (3 for $1 at small bodega)
salt and pepper: practically free
Total: $4.60
Servings: 8
Cost per serving: $0.58!!!!!
So, you can either get Chinese takeout (for probably more than $4.60) and get 1 meal out of it, or you could put in a little more effort, be fully satisfied, and still have more for leftovers!
Another maybe quicker way to do a similar meal is to just add fresh spinach, lemons, or other veggies and spices to ramen.. yes,
RAMEN
! Even
we
eat ramen. It can be really good if you add a few veggies to it! Just don't eat it
too
too often, the sodium is
outrageous
!
Did I ever say that I
love
that Mr P is cooking a lot again? Thank you fall weather for letting us cook in our home without dying of heat :D
Toodles.
J&H