Ok ok ok... I know, if you want to make a quick batch of pasta, you just open a jar (for heaven's sake there's an entire isle at the store these days for red pasta sauce, why on earth would you want to
MAKE
it yourself?) Well, its because you haven't tried simply using a can of crushed tomatoes.
We always have canned tomato products on hand for nights like tonight, when we want to make a quick meal, or for when we want to make fancier pasta sauces, pizza sauce, soups, we use it in braised meat dishes, there's always a time when we are in the midst of cooking and say "Hey babe, can you see if we have any crushed tomatoes?" But you would never use jarred "pasta sauce" in place of using crushed tomatoes, right? Right. That's because pasta sauce usually has lots of other ingredients in it that you don't need for that particular recipe. But crushed tomatoes are crushed tomatoes. Just with salt and citric acid added. No herbs, no cream, no cheese, nothing to change the flavor away from just crushed tomatoes. The versatility of canned tomato products is endless, and that's why we don't clutter our shelves with jarred pasta sauce. Plus, its usually a bit cheaper than jarred pasta sauce, AND we get to add our own herbs and spices without going overboard or being limited on what we can do with the sauce based on the herbs and spices pre-added.
Tonight we sauteed all the leftover veggies in a hot pan with olive oil, then added a big can of crushed tomatoes, added some salt, pepper, sugar, all-spice, and sherry wine, let it simmer down, added a bit of heavy cream to make it a bit orange, and presto! Sauce was done before the pasta! If that's not quick enough for you, I don't know what is!!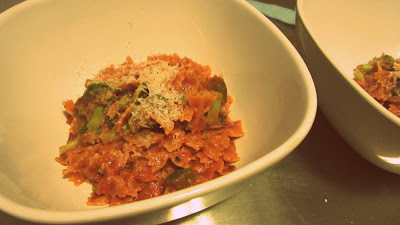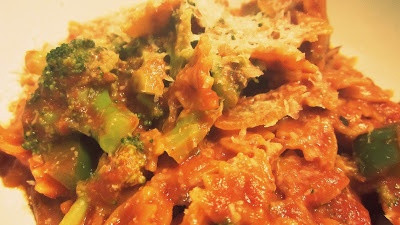 Quick Red Pasta Sauce
1 28-oz can of crushed tomatoes
1 14-oz box of pasta (any shape! tonight we used mini tomato bow-ties)
1 garlic clove, chopped
1 onion, diced (or rough chopped if you like big pieces)
1 green pepper, diced (or rough chopped if you like big pieces)
1 head broccoli, cut into florets/bite-sized pieces
1 tsp salt, plus 2 tbsp for pasta water
1 tsp pepper
1 tsp sugar
1 tsp all-spice
1 tbsp sherry wine (its ok if you don't have it, but it helps to break up the brown bits off the bottom of the pan)
1 tbsp olive oil
1/3 cup heavy cream (optional, but makes it yummier)
Fill large pot with water and bring to a boil. Add 2 tablespoons of salt and the entire box of pasta. Stir until pasta does not stick to each other. Add broccoli florets and cook as per pasta package instructions.
While waiting for water to boil, heat olive oil in large pan (dutch oven if you have one) over high heat. Add garlic and cook until fragrant (about 1 minute). Add onion and green pepper and cook until onion is translucent. Add crushed tomatoes, salt, pepper, sugar, all-spice, and sherry wine. Turn heat to low and allow to simmer for 20 minutes with the lid on the pot, stirring occasionally, making sure not to burn.
When pasta is finished, drain water. When sauce is finished simmering, add cream (if you choose), stir until cream is thoroughly mixed, add pasta and broccoli, stir until thoroughly mixed.
Presto! Garnish with freshly-grated parmesan if you have it :D
You
COULD
go as basic as just the pasta and the crushed tomatoes. We have done it before, and it turns out delicious! But, if you have veggies just sitting in the fridge, or if you just want to eat more veggies, add them! Add other types of veggies too! Zucchini would be good, and carrots, whatever suits your fancy. And if you have spices in the cupboard, by all means use them!
Hope you enjoy this super quick weeknight meal!
Toodles.
J&H