Mr P came home with a surprise after he came home from shopping today. Sometimes I
think
he doesn't listen to things I say, sometimes I
know
he doesn't listen to the things I say (mostly when he's playing Zelda or watching an episode of HIMYM).
....and sometimes he surprises me with things he remembers when I "know" he's not listening. He came home today with a whoopie pie from
Sassy Sweet Treats
since they were set up outside of the PATH station. I showed him a picture on facebook of their seasonal chocolate cake with mint filling and candy cane crumbles (heaven!!!), and he brought one home for me today :D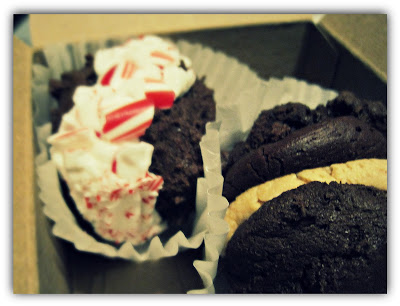 ....and one for himself too...
his favorite
chocolate cake with chocolate and peanut butter filling.
Cheers!
J&H