Mr P and I made no hesitation in getting up and getting things done today. It's been a while since we have had the opportunity to just do what used to be a "normal" Sunday. We simply woke up, put on a pot of coffee, turned on some tunes, and got started!
Thanks to my company holiday party at the
Chart House
in Weehawken beginning at noon and after-party festivities ending early (compared to a normal night at the bars) we were well-rested for our productive day.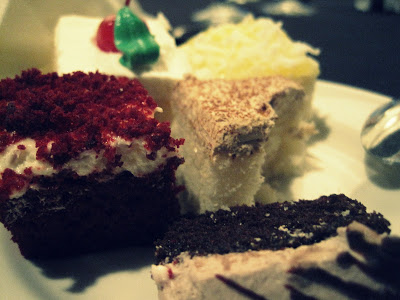 Mr P's typical eat-half-of-these-already-ridiculously-small-petit-fours-so-you-can-try-them-all-too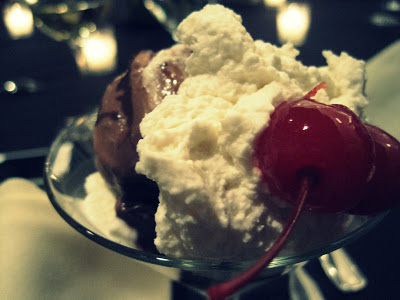 he knows me too well... Mr P got lots of whipped cream and 2 maraschino cherries for me, ice cream for him!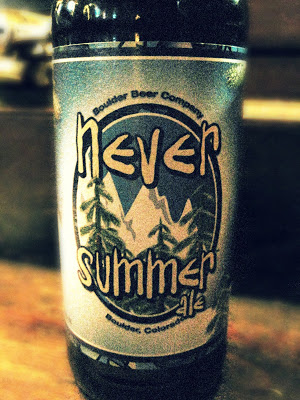 Casually eating all day, we were blessed with
Mr P's pizza-dough-turned-bread
for breakfast toast, our usual weekend
44 North Coffee
, eggs-about-to-expire-turned-deviled-eggs, and leftover-Thanksgiving-cranberries-turned-cranberry-sauce with plain yogurt.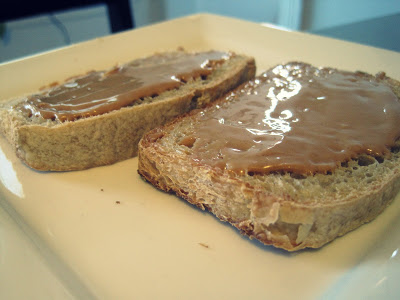 there are few things better than melty peanut butter... especially on
pizza-dough-turned-bread
toast (
SUPER
crunchy on the outside, super moist on the inside, just like pizza dough!)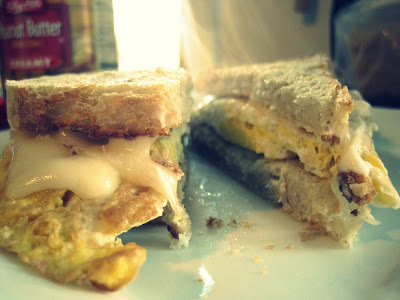 Mr P's egg and swiss sammich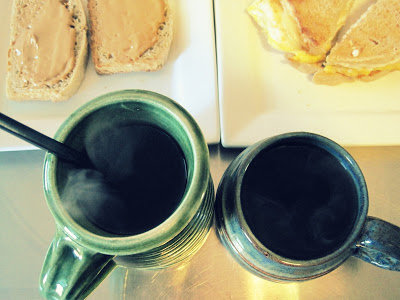 yum... coffee :D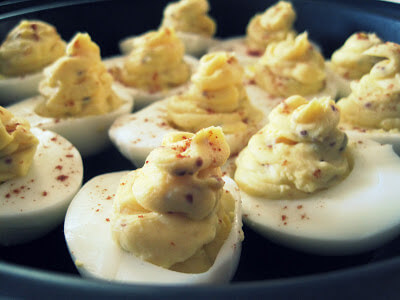 surprised with deviled eggs after returning from the laundromat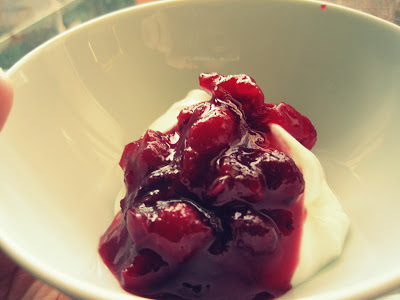 a bit of cranberry sauce with plain Greek yogurt before heading back to finish laundry
After venturing into horrendous Wal-Mart and Target (I know, what were we
THINKING
going in there on the Sunday before Christmas???) and making a pit stop at our favorite Asian grocery, we returned to do 4 big loads of laundry, clean, and make salmon for dinner!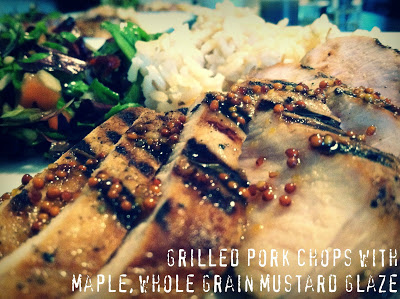 After dinner I decided to finish writing out the Christmas cards, ran out of stamps and envelopes, and dragged Mr P to Duane Reade to pick up some more. He first made another PB sammich to go, and we headed out the door. We got to the corner when he heard a woman cry out, he turned around, saw an elderly woman on the ground, threw his half-eaten sammich to the ground, and ran after her. She tripped on the sidewalk and hit her knees (ouch! and her nose too...) We helped her up and walked her to her destination to make sure she was ok.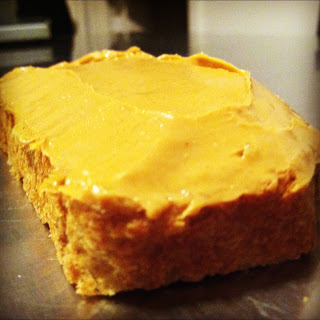 check out the MOUND of PB on the sammich that he only got halfway through before helping the lady!! Yes, that is a bevel on the side... there's THAT much peanut butter on it. I suppose when there's no parents telling you how much to put on, you can put on as much as you like :P
It felt good to help someone out after we have had such amazing neighbors helping US out for the past week with our water situation...
Ahhh... productive, fun, good food.
Just... the way... a Sunday...
SHOULD
be :D
Cheers to a festive week ahead!
J&H