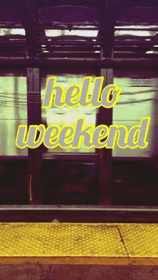 it's the weekend!
and because I get to have my friends come to ME this time, with no solid plans, no alarms to be set... i'm in seventh heaven.
because i was
away from home
95% of the days from february through august, i'm in the mood to be a tourist in
my own city
. i want to grab a drink at bars i've never been to, order food at restaurants i've never been to, peruse the racks of boutiques i've only window-shopped.....
it's just going to be a great weekend....
i can FEEL it!
also, when the
path trains
are on an even
MORE limited schedule
this weekend than the normal weekend limited schedule, it makes me just want to stay close to home and enjoy everything nearby :)
what about you?
what are you looking forward to this weekend?
jenn