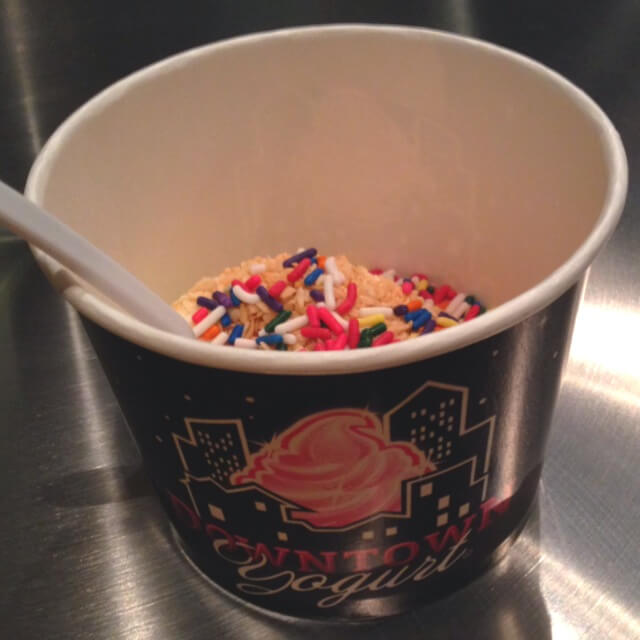 to some places, the whole self-yourself-froyo thing is gone, done, out the door, never coming back because it was exploited so much when it was popular. to you local people, hoboken is a good example. when i moved there, i was in the middle of the froyo "boom". the second year i lived there, falafel was the big boom, with 5 restaurants/take-out places opening in less than a year. today there's far fewer froyo and falafel places, and quite possibly there may be another "fad" food that's taken their place.
i've lived in
jersey city
for over 2 years now, and for as long as i have been there, the froyo fad never came. local ice cream shops served vanilla soft serve yogurt as an alternative to ice cream, but that's it.
until now!
i admit, even when there were 6 froyo shops in hoboken, i still frequented them at least once a week
(i couldn't help it!! it's so good!)
. this place is one of a kind for downtown jersey city right now, and being in such a convenient location, how could you NOT at least try it out?
downtown yogurt
opened a few weeks ago, just across the street from the grove street PATH station, but it wasn't until monday night that i had my mind set on getting some! mr p isn't a froyo fan, and convincing him to go get some sweets that he doesn't enjoy and I certainly don't
need
was pretty far-fetched. i made it a plan to convince a group from kickboxing to walk down after class
(hey, it's better than NOT working out and eating froyo, right? right)
after about 8 of us got our bucket of froyo
(yes, bucket, those sneaky kids know what they're doing when they give you huge containers to fill!)
mr p couldn't resist. no yogurt for him though, thankfully they have softserve sorbet too!
i'm not one to eat the crazy flavors they come up with, 99% of the time i'm a original tart and sprinkles sort of girl. and the good thing about self-serve yogurt is that you can get as much or as little as you like!
(as you can see from the photo above, i barely filled the bottom of the bucket, and that was the perfect sweet treat!)
for those of you who DO enjoy eating the different flavors,
downtown yogurt
has a whole wall of handles, pouring out your favorite flavors, and endless toppings, including my two favorites of rainbow sprinkles and toasted coconut, and mr p's new favorite of "boba". the boba there is nothing like what you see in bubble tea though, these little balls are more like gushers! they have a chewy outside, but a burst of tangy goodness pops out after biting into them.
now it's your turn to try
downtown yogurt
. afterall, if you ride the grove street PATH train, it's just a few steps away!! and why not support another local business, right? DTJC needs it!
cheers.
jenn