Though there's not a lot to show for today, Mr P and I did some
hard
work.
First, we went to the LaPointes' house to pick up lots of tools that they generously offered to let us borrow! We wouldn't have gotten some of the things done if it weren't for them. Mucho thanks you guys :D
Next we made the biggest purchase of the reno... a new stove! If you remember what the old stove looks like (
see first post
), we definitely needed a new one. We debated back and forth about it, but after the utility man came to hook up our gas and electric, we quickly found out that only 2 of the burners worked. Plus the oven was only about half the size of a normal oven because the other half of it was the heating unit that used to provide heat to the whole apartment (which doesn't work either). It was also rusty, HUGE and missing a knob. Definitely not ideal. Sears will take out the old stove when they deliver the new one, so it was a pretty good deal! Since we aren't going to be able to take the stove with us when we leave, we decided to get the cheapest gas stove we could find that had a window in the front.... this is what will be delivered in a couple of weeks (except it will be black):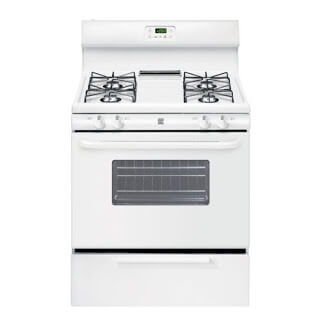 It's not bad... it does the trick, and it will be brand new. Anything is awesome when it's brand new, right?
Next on the list we went to Home Depot for some plumbing pieces and paint, headed to the apartment around 12:30, and went to work. Mr P worked on the laminate wood trim in the bedroom and the bathroom and did an AMAZING job with it. It makes those two rooms look complete. The only thing we need to do is go back and paint the old trim where we spackled.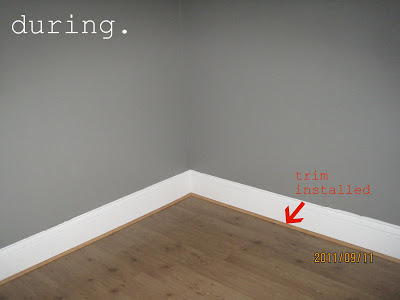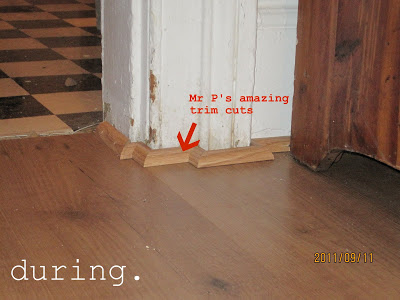 I worked in the bathroom all day. I ripped up floors tiles, laid and screwed down wonderboard backerboard and grouted the wall tiles that had been up for ages but never been grouted (again... who
does
that?).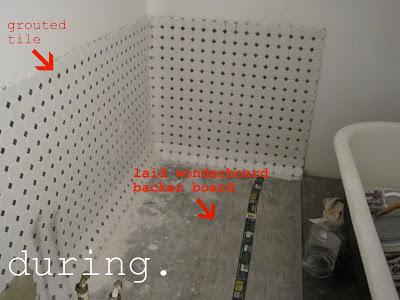 Mr P insisted on painting the clawfoot tub, which I was not in favor of, because it was an unnecessary extra task that I thought we could do later if we wanted. We ended up buying the paint today, and actually
doing
it today too. Turns out he was right! That $5 can of appliance paint was the best investment yet! It makes our tub look very chic, and took little effort. We just had to protect the white part of the tub and the walls with tape and plastic, and get spray-painting! Simple as that! It's definitely not a
perrrfect
clawfoot tub reno, but it's the best we could do with the tools we had, and again, it was only $5!! We sanded it down first with a electric sander, so that got out as many bumps as possible....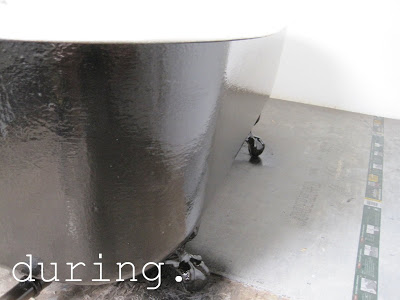 We ripped out the old vanity in hopes of getting the new one in today, but after reading the instructions more thoroughly for the vinyl tile we wanted to lay, we realized we had to put a primer over the wonderboard we laid over the chipboard subfloor. Wonderboard is made of cement, which gets crumbly, not good for something that is basically a big sticker.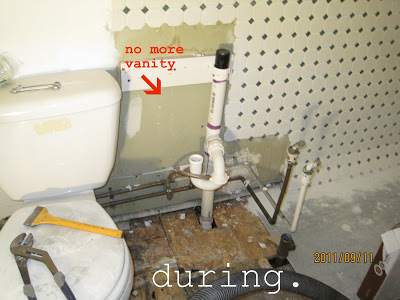 So, we called it quits a little earlier tonight in hopes of making progress on the bathroom tomorrow! At least we got some gooood food at a Vietnamese restaurant around the corner called
Saigon Cafe
(probably my most favorite thing about the new place... walking distance to several Vietnamese restaurants and a Vietnamese grocery, which means awesome cheap produce and Asian groceries!) Mr P ordered a pan-seared peppercorn pork with rice and veggies and I ordered banh xeo! My banh xeo had a surprising, slightly sweet twist to it with mung beans in the crepe part!
Another long week ahead of us, but it will be worth it in the end!
Toodles.
J&H